Single shot spectral mammography
A colourful innovation in mammography
No imaging modality is infallible -- not even mammography, the golden standard for early detection of breast cancer. Particularly in women with dense breast tissue, the diagnostic quality of conventional mammography frequently suffers in terms of sensitivity and specificity. However, the evolution of digital systems has produced technologies that optimise sensitivity as well as specificity and make detection of pre-cancerous masses in breasts possible.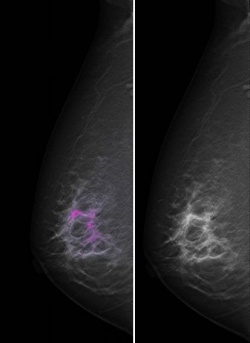 Spectral Imaging is one of the most exciting and promising innovations in mammography. This new procedure offers possibilities in visualisation and analysis of suspicious findings that let you see the mammogram in a completely new light.
There's more to see …
While tomosynthesis gave three-dimensional insight into breast tissue, Spectral Mammography now adds information about the very nature of what we see in the image. The technology is based on the fact that X-rays consist of an energy spectrum – just like visual light gives a spectrum of colours. The way this spectrum is absorbed by the tissue allows for further analysis of the tissue characteristics.
With the unique photon counting detector of Sectra MicroDose Mammography, Spectral Mammography offers a further advantage since the mammography and the spectral image can be acquired in a single shot. Just like a regular mammogram, the examination is performed in one exposure, without compromising image quality or increasing patient dose. The Single Shot technology not only considerably shortens examination time and minimises risk of motion artifacts, but also significantly reduces radiation exposure compared to other digital mammography systems that rely on multiple exposures at different energies to acquire dual-energy images.
Some of the potential applications of Single Shot Spectral Mammography are currently being tested across Europe.
Within screening, lesion characterisation is being examined. Using Single Shot Spectral Mammography to characterise lesions brings the possibility of identifying benign cysts already in the screening thanks to additional information available in each image. This could significantly reduce unnecessary recalls for ultrasound and biopsies and lower healthcare costs.
There is also research ongoing within Spectral Mammography for clinical use. Contrast-enhanced Spectral Mammography is currently undergoing an evaluation at Charité, Berlin.
Clinical studies open new perspectives
Since 2010, Dr Felix Diekmann, consultant at the Institute for Radiology, Charité, Berlin, has been working with a Sectra MicroDose Mammography system with integrated Spectral Imaging technology. He is the first radiologist to test contrast-enhanced Spectral Mammography in the context of the EU-funded research project HIGHREX.
In late 2010, Professor Walter Heindel, head of the Mammography Reference Centre at Münster University Hospital, Germany, and a medical partner of Sectra, joined the study.
The Charité team in Berlin can already present exciting preliminary results of the HIGHREX study. 50 participants, for whom established procedures – clinical examination, mammography, ultrasound, MRI – had provided suspicious findings, were examined with Single Shot Spectral Mammography. 'We can already tell that the technology works well and, at least for this first participant group, offered significantly more information than conventional mammography', Dr Diekmann reports.

The study primarily compares contrast-enhanced Spectral Mammography data sets to mammography plus ultrasound. However, a further objective is the assessment of Spectral Mammography versus MRI.
There are plenty of encouraging indications that contrast-enhanced Spectral Mammography is equal, if not superior, to MRI. 'Spectral Imaging is not only faster and easier to perform than MRI, it also shows certain pathological changes, such as lobular intraepithelial neoplasia that MRI does not detect', Dr. Diekmann explains. 'Moreover, Spectral Imaging offers much higher spatial resolution, which allows enhanced evaluation of lesion morphology. Thus spectral technology might well be a cost-efficient alternative to MRI for questions such as scar or relapse or cancer of unknown primary'.

Spectral Mammography without contrast media
At this point in his clinical research, Dr Diekmann can well imagine integrating Spectral Imaging into standard mammography: 'Preliminary tests with Single Shot Spectral Mammography without contrast indicate that water imaging, similar to T2 weighting in MRI, might be possible. If these results can be confirmed, Single Shot Spectral Mammography might be suited for screening purposes, which could significantly reduce the recall rate in mammography screening. Many lesions could, without recall for ultrasound, be identified as cysts'.
Whether Single Shot Spectral Mammography will have a place in screening mammography, and in clinical work as well, remains to be seen. In the course of ongoing research projects – depending on preliminary study results – approximately 100 additional women will be examined by the end of 2011. However, Dr Diekmann is already confident that Single Shot Spectral Mammography can use established diagnostic criteria from MRI and that this innovative technology has the potential to overcome some of the current limitations of mammography screening.
More on the subject:
More on companies: