Sepsis diagnosis and treatment
Blood culture and the PCT test are still the most suitable
'We need an ECG for Sepsis,' urged Professor Konrad Reinhart during this year's Anaesthesiology and Intensive Care Medicine (HAI) Congress in Berlin.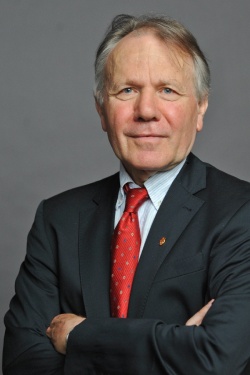 Obviously his hope is not for an ECG machine, but for a faster means of diagnosis than the standard blood culture that can only provide a sepsis diagnosis in 48 to 72 hours. As yet there is no ideal marker for sepsis, even though the earliest possible diagnosis and treatment is decisive in the patient's survival. Even though the improvement and acceleration of the diagnostic procedure has been researched worldwide for decades, there has been no trailblazing development in this field.
PCT markers as add-ons to blood culture
During his congress lecture, Prof. Reinhart, who directs the Clinic for Anaesthesiology and Intensive Care Medicine at Jena University Hospital, explained that he recommends the frequently used and so far most investigated diagnostic marker, the procalcitonin test (PCT), as an add-on to the blood culture. Although the diagnostic effectiveness of this marker is better than that of other infection markers, such as the C-reactive protein, studies have not yet sufficiently proven that the use of the PCT marker can lower the mortality rate from sepsis. However, it is known that the survival rate can be improved through earlier and better diagnosis, and this speaks for the PCT Test, he emphasised.
Procalcitonin is the precursor of a thyroid hormone produced naturally in the body, which is normally hardly or not at all detectable in the blood plasma. However, during infection it rises significantly, particularly if bacteria are present. Therefore, PCT is often used as a marker if sepsis is suspected in order to differentiate between infectious (sepsis) and non-infectious causes (such as SIRS) of a systemic inflammation. The big advantage of this marker in particular is speed, with the result available in only 1-2 hours from laboratories that work around the clock.
PCT test limitations but possible treatment control
The PCT Test as a diagnosis marker does have its limitations and therefore cannot replace the blood culture. The PCT level is for instance also raised after major surgery without the presence of sepsis. In the case of fungal infections and fungal sepsis the PCT test also has certain weaknesses. A severe fungal infection, which points towards a sepsis, can be present without the PCT being markedly raised. However, the marker can also be used for treatment control. If the marker doesn't fall during antibiosis – procalcitonin has a half-life of 24 hours – one can assume that the antibiotics are not effective, be it due to resistant pathogens or a centre of inflammation that cannot be treated with antibiotics, such as a catheter infected with pathogens or an abscess, a bowel leak or an infected heart valve. However, Prof. Reinhart said that the treatment control of sepsis with PCT has so far been insufficiently documented in qualitative studies.
Antibiosis control with PCT test for sepsis?
At least ten large-scale, randomised studies, however, have proved that PCT monitoring clearly helps to decrease antibiotics use, Prof. Reinhart said. Although the examinations centred mainly around respiratory infections and pneumonia respectively, there are now also some studies from other areas of intensive care medicine that proved this. To be on the safe side, a study (SISPCT) is currently being run, on behalf of the Sepsis Competence Network, to capture whether PCT can also be used for antibiosis monitoring in severe cases of sepsis, he said. Although antibiosis monitoring does not have effects on individual patients it saves costs, reduces the use of antibiotics generally and therefore also helps to fight the development of resistances due to the uncontrolled administration of antibiotics.
Molecular-biological PCR test as another add-on
Blood culture independent tests on a PCR basis, which can detect bacterial DNA in vitro within 6-8 hours, are available. They have been tested in several studies and are already partly used in clinical applications. 'We have great hopes and have already carried out studies together with SIRS-Lab and Roche, which suggest that this method allows us to find out at an earlier stage which pathogens might be involved. This is promising, but the effectiveness, particularly cost-effectiveness, has not yet been sufficiently proved,' Prof. Reinhart said. However, these tests cannot deliver comprehensive answers to questions about resistance or even multi-resistance – they can only give hints, which is why the PCR test should only be regarded as an add-on to a blood culture. The PCR test will also not be able to replace the PCT marker, he said. 'So far we know that we can find pathogens twice as often, or sometimes even three times as often, with the PCT test than with a blood culture, for which the hit rate is 20-30%.' By combining the two methods a detection rate of 40% up to a maximum of 60% can therefore be achieved. This means that '…with both methods there will always be cases where we don't know if there is a pathogen and if we should treat based on the clinical symptoms and the PCT'.
Profile:
Renowned sepsis expert, researcher and member of numerous sepsis groups, Professor Konrad Reinhart studied medicine in Munich and the Free University (FU) in Berlin before working in several FU clinics and becoming a registrar at the Anaesthesiology and Intensive Care Clinic at the FU's Benjamin Franklin Clinic. There he completed his doctorate and postdoctoral lecture qualification. A professorship followed and he became Assistant Director of the clinic. In 1993 he joined Jena University Hospital, where he heads the Anaesthesiology and Intensive Therapy Clinic.
His research is on the development of new diagnostic procedures and treatment approaches for sepsis. Apart from managing numerous research projects he has had a long involvement with the foundation of advisory boards and organisations that work against the sepsis mortality rate. He was the first President of the German Sepsis Society (founded 2001), Chair of the International Sepsis Forum and, since its foundation (2010), has Chaired the Global Sepsis Alliance, which launched World Sepsis Day.