Sectra's cross-enterprise products roll out at ECR
Sectra's RIS/PACS enables workload sharing across multiple sites as well as handling of very large image stacks over strained networks. At this year's ECR, the company is showing a range of products that further strengthen its cross-enterprise capabilities in radiology and mammography.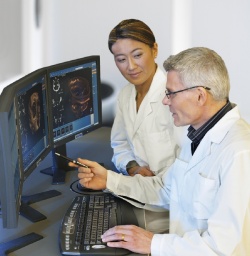 With improved volume visualisation, Sectra is focusing on communication and making exploratory visualisation available for general use. 'Fully integrated into the PACS workstation and designed to increase review efficiency and result communication in high-production environments, it supports the radiologist by offering extremely fast reading of volumetric image data and by enabling a superior service to referring physicians through the interactive 3-D presentation of findings.
With the newly launched diagnostic mammography workstation, the firm provides a mammography reading platform based on its new RapidConnect technology. 'This dedicated mammography workstation features such efficiency boosters as the ability to display MR, US and MG examinations side by side, providing a full overview of a patient case,' Sectra explains. 'Additionally, the breasts will automatically be displayed in the same size, regardless of modality vendor and view. Dynamic work lists and advanced automatic hanging protocols maximise throughput. The ability to enable true remote reading, with handling of vast image volumes, makes this the ultimate solution for high-volume mammography operations in screening and clinical environments.'
Sectra MicroDose Mammography offers further enhanced performance for high-volume screening. 'Sectra customers perform as many as 15 four-image examinations per hour. With the fastest detector in the market, the system allows for even higher productivity if needed. Sectra MicroDose Mammography maximises image quality and increases throughput at 50% of the radiation dose compared with other systems. It's the only system on the market using unique photon counting technology – considered by many to be the future of radiology.'
Also demonstrated is a fully integrated solution for mammography screening, including Sectra Screening RIS and Sectra Breast Imaging PACS, designed to streamline mammography workflow.
Research and development
Among its many R&D involvements, Sectra and the Centre for Medical Image Science and Visualisation (CMIV) in Linköping are jointly demonstrating their prototype of a virtual autopsy table featuring a multi-touch screen.
The company is also researching single-shot spectral imaging and breast tomosynthesis to define new technologies that could improve cancer detection in mammography. 'Photon counting is the only technology able to perform single-shot spectral imaging, with or without contrast agent,' the company points out. 'This has great potential as a future tool for both diagnostic and screening mammography. Photon counting using a multi-slit scanning technology is also an excellent platform for tomosynthesis, since 3-D images are acquired in a single scan with zero scattered radiation and extremely short exposure times. This gives a significant advantage over flat-panel detector systems.'
Sectra is displaying images derived from these new technologies at ECR 2010 in Foyer D, booth 406.
More on the subject:
More on companies: