Sectra launches a new PACS system
Sectra's wide portfolio on show at the ECR this year includes a new PACS workstation, a photon-counting MicroDose Mammography system, pre-operative solutions for orthopaedic surgery and the company's full range of Enterprise Control solutions.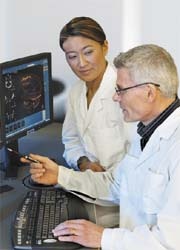 PACS - The IDS7/dx, the latest model in Sectra's PACS workstations, is being launched in Europe for the first time. This comprehensive, high-end diagnostic workstation features a patent pending technology that solves the problem of data explosion, Sectra explains: 'The system enables radiologists to retrieve, display and process image data of extreme sizes with ease – problems encountered in working with large datasets do no longer occur.' The PACS can distribute images for readings in multiple clinics. Even over high-latency networks, the streaming technology distributes datasets in network quality, regardless of size and variations.

Photon-counting - Sectra reports that its MicroDose Mammography L30 is currently the only commercially available photon-counting mammography system on the market. 'The unique photon-counting full-field digital mammography system maximises image quality and increases throughput at the lowest radiation dose on the market. At our booth, we demonstrate a totally integrated solution for mammography screening, including Sectra Screening RIS, Sectra MicroDose Mammography, and Sectra Breast Imaging PACS, all designed to efficiently streamline mammography workflow.'

Orthopaedics - Sectra offers a solution to optimise productivity through advanced image processing capabilities. A comprehensive set of guides for pre-operative planning of hip and knee surgery includes approximately 33,000 views of digital templates, from 18 implant manufacturers, bringing full functionality to plan and template even complex trauma cases.
The company will also showcase PACS-Guard. Control Tower software generates reports, monitors the daily status of a radiology department, reveals long-term production trends in RIS and PACS and identifies potential bottlenecks early.
More on the subject:
More on companies: