Russian endocrinology
Olga Ostrovskaya reports on developments incare for diabetic children and pregnant women
The fact that child diabetics (type I) in Russia do not receive necessary and qualitative therapy was again highlighted during the 7th Russian conference 'The priority national project - Health - and the tasks of children's endocrinologists' held in Saint-Petersburg this June.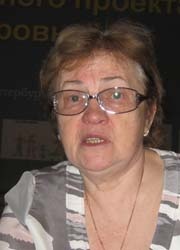 'Our main mission,' explained Dr Valentina Peterkova, the country's leading children's endocrinologist, 'is to ensure the perfect physical and sexual development of our children with endocrine diseases. These are diabetes (type I) and short stature (a problem with growth hormone).'
Screening for endocrinology diseases has shown that diabetes prevalence is diverse in different regions. Moscow, for example, is like Western Europe, whilst the highest prevalence is in north-west cites (Vologda has 21 diabetes cases on 100,000 people). However, the Republics of Burjatia, Saha, Udmurtia have a low prevalence – as in the Asian region.
The average number of children with type I diabetes is over 16,000 (pre-14 years old) and about 10,000 from 14-18 years. Russia registers about 2,500 new cases annually. 'One of the big problems is prevention – particularly relating to children,' said Dr Peterkova. 'I tell a child and his parents that they can live with diabetes and this life could be long and of full value if they will help their doctor actively. And I have noticed that many small patients with diabetes become professional doctors then!'
Russian physicians try to use advanced technologies to treat diabetes. Surgeon Igor Poddubnij (Moscow medical university) spoke of his first experience with laparoscopic surgery. The operations, to remove gland tumours, were performed on 10 children aged from 5 months to 16 years. There have been few such procedures in the world and these are the first in Russia, providing experience that is highly important for Russian endocrinologists.
The second interesting aspect is the use of continuous subcutaneous insulin infusion therapy (pump). Dr Alena Tiselko, of the D. O. Ott Research Institute of Obstetrics and Gynaecology, works with pregnant women with diabetes to ensure a healthy child is born. Dr Tiselko implemented research that aims to compare carbohydrate metabolism, features of insulin therapy, and the pregnancy course in type 1 and type 2 diabetic women using continuous subcutaneous insulin infusion therapy and multiple day injections.
65 Type 1 and Type 2 women aged 18-54 years were observed. The duration of diabetes varied from 1.5 to 30 years (12.2+/-2.0). Blood glucose levels were assessed by CGMS with 288 tests during six days. 32 women were treated with CSII. The average level of BG, glucose variability, total daily insulin doses and gestosis frequency were estimated.
Cf Gixdlko obtained very interesting results: TDD in Type 1 on CSII during first trimester was 39.3+.-6.1IU, 48.2+/-7.3IU during second trimester, and 74.1IU during the third; in the MDI group: 46.9+/-9.4IU, 55.9+/-10.7IU, and 79.1+/-15.9IU respectively. TDD in Type 2 on CSII: 38.2+/-8.1IU during second trimester and 64.5+/-12.4 IU during the third; in Type 2 on MDI: 65.9+/-8.7IU and 99.1+/-15.9IU respectively. In Type 1 on CSII MeHL of BG: 6.2 mmol/l [5.8;6.7]; in Type 1 on MDI: 7.55 mmol/l [7.05;8]. Among CSII group the SD of BG was significantly lower than in MDI group (according to Wilcoxon-Mann-Whitney test p=5.58x10-6; the MeHL difference for SD in the groups was 1.0 mmol/l[0.7;1.5] p=6x10-6).
65 live children were born. The newborns body weight was comparable in both groups. Gestosis frequency in the CSII group was 50% (with a predominance of mild forms) and was significantly lower than in MDI group.
'The fact is that CSII used during pregnancy decreases glucose variability and allows the achievement of target glucose level,' said Dr Tiselko.