Ruhr's centre of excellence for medical
On offer: outstanding technologies and a fine environment
The Centre for Medical Imaging Ruhr (zmb ruhr) in Bochum offers the technological infrastructure for the development of therapeutic and diagnostic imaging procedures. The primary focus is on ultrasound — the most commonly used imaging procedure in Germany, delivering the highest volume of examinations.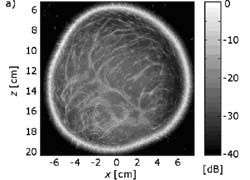 The zmb ruhr is based in the BioMedicine Centre Bochum, a near neighbour of Ruhr University Bochum. Indeed, the medical imaging centre was founded as
a joint venture between the university and the development association Entwicklungsgemeinschaft Ruhr-Bochum mbH (EGR).

The centre's particular focus is on the economic implementation of scientific findings; small and medium size companies, and cooperation with the bigger players in imaging.
Scientific expertise was the foundation for the specialist orientation of zmb ruhr, which includes sonohistological procedures, high-resolution optical schlieren measurement techniques, pre-clinical research and opportunities for the development and use of a breast scanner (see compound image). The clinical focus is on the classic, prime areas of ultrasound scanning, such as early cancer detection and vascular diagnostics. Molecular imaging, which facilitates the detection of changes in metabolic processes through the use of specific binding contrast media, is currently considered to have particular potential.

A dedicated equipment park
The zmb ruhr is uniquely equipped and outstandingly designed from a scientific perspective. At its core is an equipment park that, along with the latest ultrasound scanners, also offers innovative measuring and control equipment for development and testing. The ultrasound scanners are partly equipped with research interfaces that allow processing of raw data and also make it possible to perform complex electronic, acoustic and optic tests and measurements. A tuneable laser system for photo-acoustic measurements is also available.
All this is available for the industry and researchers.

Due to its many assets, as well as the proximity of the technologically excellent Ruhr University Bochum, the zmb ruhr offers an attractive working environment in which to develop new diagnostic and therapeutic procedures. The quality of equipment and facilities has made this imaging centre highly significant for the imaging location Metropole Ruhr. zmb ruhr receives EU funding (European Regional Development Fund – ERDF), the federal state of North Rhine-Westphalia and the city of Bochum. The main beneficiaries will be scientists, the healthcare industry and, in the long term, the patients.