Research to prolong the retention time in the blood
The University of Urbino and Philips Research will jointly research the encapsulation of magnetic nanoparticle contrast agents inside living blood cells to prolong the retention time of these agents in the blood. Injected as free particles, magnetic nanoparticle contrast agents are quickly excreted from the blood via the patient's liver, which limits their application.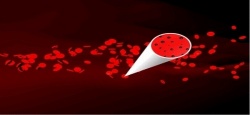 Contrast agents are compounds that are used to increase the visibility of internal organs, blood vessels or tissue in the images generated by medical scanners. They are typically injected in small quantities into a blood vessel, after which they circulate in the patient's blood and/or accumulate at certain positions in the patient's body. By increasing the visibility of the structures of interest in the images, contrast agents can help radiologists to determine the presence and extent of a given disease, and plan and guide interventions.
The patented contrast agent techniques being developed by the University of Urbino are based on magnetic nanoparticles that are captured inside the patient's own red blood cells, where they remain protected from the body's excretion mechanisms for much longer periods. This could be as long as 120 days (the typical lifetime of healthy red blood cells). A key feature of the University of Urbino's technology is that it could allow the preparation of relatively large volumes of contrast-agent loaded blood. Philips Research will take samples of this contrast-agent loaded blood and test its effectiveness in Philips scanners, using its knowledge of the physics involved to optimize the scan parameters.
The collaboration between Philips Research and the University of Urbino will last for approximately two and a half years, with expected initial applications in the treatment of cardiovascular disease – one of the biggest killers in the western world.
One way of treating heart rhythm disorders is a minimally invasive procedure known as radio-frequency ablation. During this procedure, a catheter is inserted into the patient's heart and the tissue responsible for propagating abnormal electrical signals through the heart muscle is destroyed using heat from a radio-frequency field generated at the tip of the catheter. This is a complex procedure and may take hours to complete. Medical imaging technologies are used to direct these procedures. The images provide the maps that allow the interventional cardiologist to guide these instruments through the body to the relevant areas.
Encapsulated magnetic nanoparticles injected into a patient's bloodstream could be used to highlight the volume of blood in the different heart chambers during such procedures. Injected as free particles, however, they would not remain in the bloodstream long enough for such operations to be successfully completed, because they would be too quickly excreted from the blood via the patient's liver.

More on the subject:
More on companies: