Radiologists look at Vienna
Spring can be felt, though many visitors of ECR 2015 probably only have time to enjoy the floral decorations in the conference center. The program of the conference is packed full of topics that promise exciting days and many discussions.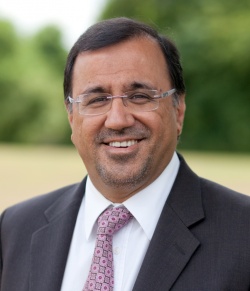 A major topic of the congress: prostate cancer diagnosis and management. Anwar R. Padhani, consultant radiologist at Paul Strickland Scanner Centre, Mount Vernon Hospital, Northwood, and Professor of the Institute of Cancer Research, London, thinks that the current situation in prostate cancer diagnosis is a mess for patients: "Men with prostate cancer are both under-diagnosed and over-diagnosed, under-treated and over-treated." The reasons for it are manifold. On the one hand, the very controversial PSA level conveys a false sense of safety to many men. Their level may be in the normal range, even though they already have cancer. The opposite is also possible: The value is increased and seems to indicate cancer, but there is no cancer. This is why many men end in OR who instead could have lived without cancer treatment until the rest of their days. On the other hand, biopsy might not always provide an accurate result as well. According to Padhani, a wrong diagnosis occurs in 20 to 30 percent of all cases, because the cancer is simply missed. Radiology therefore focuses on new ultrasonic techniques as well as multi-parameter MRI.
Radiologists have to reconsider ways to treat prostate cancer
For Padhani, the path is clear: "We must change, and for that, we must think differently. Prostate cancer is the last cancer in which imaging is not a key element of the diagnostic pathway. Multi-parametric MRI is becoming a key component of the prostate cancer diagnosis pathway and targeted biopsies of lesions under MRI guidance are likely to become a part of the diagnostic pathway. Tissue preservation, by active surveillance and focal therapy, will reduce the over-treatment burden of localised disease."
The congress participants are able to get to know which steps this might be in the session NH 9 Image-guided interventions of the prostate on Friday.