Quick accurate cervical cancer test
The United Kingdom has a strong medical devices industry; more than 2,000 companies employ over 50,000 people and support the employment of many more in this field. About 200 of these medical manufacturers are at Medica this year, at various pavilions, including those representing Wales, Scotland and Northern Ireland. Among the UK exhibitors, Zilico Ltd is presenting, for the first time, a pioneering new technology, which, the firm reports, offers a quicker, more accurate detection of cervical cancer in real time, removing several weeks of waiting for a diagnosis.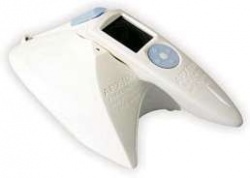 The APX, a portable handheld device, measures the resistivity of cells and detects any changes as they progress from normal through to cancerous. 'It will help to better manage the disease and also significantly reduce morbidity due to over-treatment and under-treatment due to false negative smears,' Zilico adds. 'The system is safe and painless and has two functionalities within the one unit - the APX 100, which supports clinicians within their diagnostic procedure and the APX 200, which is a point of care (POC) test.

'The APX100 enables colposcopists to better target biopsy sites helping to reduce the number of diagnostic biopsies and avoid the gross overtreatment of mild abnormalities. It has undergone four separate clinical trials and is currently in the middle of an EU multi-centre trial. Once this is completed, it will be launched across the European Union in 2010. 'The APX 200 application is being targeted at the cervical screening market as it provides a real-time diagnosis at the primary point-of-care thus reducing the significant traffic in the healthcare system between primary care, cytology laboratories and colposcopy clinics. Ultimately it will result in a more effective application of´limited healthcare resources.'
Sameer Kothari, CEO of Zilico added: 'In countries where organised screening is still not established the APX 200 provides an opportunity to rapidly deploy screening programmes without the significant capital infrastructure costs of building and running pathology laboratories. It is safe, painless, and accurate.'
Details: www.zilico.co.uk
Zilico is in the UK Pavilion, Hall 16, Stand G10

Neurological and surgical devices
Based in Wales, Magstim Co. Ltd provides clinicians and researchers with state-of-the-art stimulation and monitoring equipment to facilitate the assessment, protection and improvement in function of the human nervous system, with effort focused on applications related to magnetic neurological stimulation and intra-operative nerve monitoring. 'Through our products, we enable researchers and clinicians to assess, protect and improve the functioning of the nervous system in various applications,' the company explains.
Alongside its established range of magnetic stimulators, the Magstim stand at Medica (details below) is featuring the new Rapid2 Plus1 rapid rate stimulator for repetitive transcranial magnetic stimulation (TMS). This is an
enhancement to the existing Rapid2 Biphasic rapid rate stimulator, offering a significantly higher repetition rate (at stimulation output of 30% or higher) than other TMS stimulators, the firm points out. 'The Rapid2 Plus1 is particularly suited to protocols such as Theta Burst.' Magstim's range of magnetic stimulation systems provide a
variety of solutions for researchers and clinicians working in neurology, neuroscience, psychiatry and rehabilitation.
The company also provides a wide range of stimulators and stimulating coils to suit a variety of applications.
The Magstim Innovations team is also available to develop novel research devices to order.
Details: www.magstim.com
Magstim at Medica, Hall 16. Stand F30