Article • Oncology expert debate
Post-Brexit and future cancer research: What EU/UK deals may mean
An online experts debate focuses on how Brexit could affect research
Report: Mark Nicholls
Despite Brexit uncertainties, four leading UK cancer research experts expressed optimism for continued pan-European collaboration and innovation during the online panel debate 'Brexit deal: What it really means for cancer research and innovation' hosted by the National Cancer Research Institute (NCRI). The experts, Dr Sheuli Porkess, Professor Richard Sullivan, Emlyn Samuel, and Jim Elliott, were chaired by Professor Pam Kearns, Chair of Clinical Paediatric Oncology at the University of Birmingham.
Steep challenges
Having reviewed the current UK research and innovation landscape, the panellists discussed the outlook from the perspective of key UK organisations. Also considered was the potential impact of the coronavirus pandemic on cancer research, science, innovation, funding and treatment in the future, and also the long-term economic effect of Covid-19 internationally.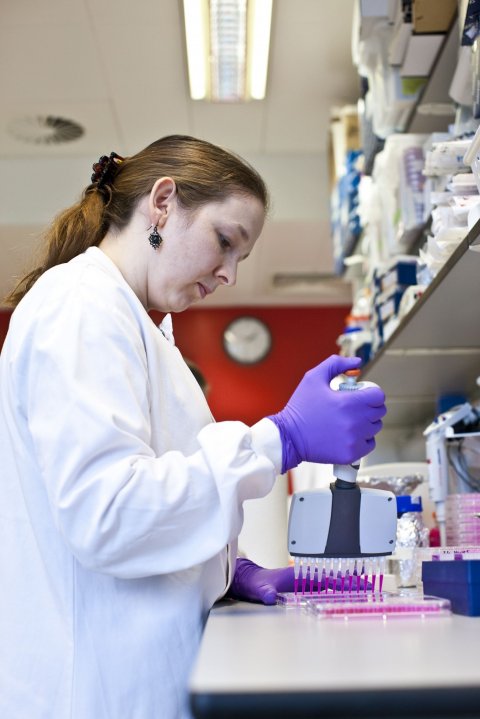 Porkess noted that Brexit and the pandemic had brought disruption to global R&D and healthcare systems, but had motivated the Association of the Britisch Pharmaceutical Industry (ABPI) to be even more focused on being internationally competitive with commercial clinical trials. Concerns include continued participation in EU programmes, data adequacy, clinical trial supplies, moving products for research and additional hurdles for equipment and consumables imports, regulation of trials, and immigration factors. 'It's tough at the moment with the effects of Covid-19 and we also know some practicalities of Brexit have not been worked through,' Porkess said. 'But, we have a recovery resilience and growth programme in place that gives us opportunities we've not had before to get through those changes, to ensure recovery from the pandemic and drive that growth in research that we all want to see.'
The Cancer Research UK (CRUK) has worked with the UK government, and across Europe, on the implications of Brexit since the 2016 referendum to ensure, whatever the outcome, that 'cancer patients and research is protected as far as possible', Samuel pointed out.
Continuity across borders
I'm reasonably confident that the UK research community will find ways to carry on and collaborate across Europe

Jim Elliott
Key topics were the regulatory environment for clinical trials, immigration and movement, as almost a third of CRUK trials involve patients from EU member states. 'We've also been working to ensure that patients can continue to access new and innovative medicines as well as the supply of existing medicine across borders, and also working on monitoring broader research environment with the Horizon Europe Association – one of the real positives to come out of the deal,' Samuel added. 'There was a huge relief that there was a deal; it provides a platform for further development and negotiation of the UK relationship with the EU.'
Sullivan said his team had examined the effect of Brexit on cancer research with regards to the socio-economic impact; the mechanistic aspects of collaboration and partnership, such as policy changes around the ability for people to move freely across borders; and the political attitude to collaborations. While the UK had previously enjoyed an enormous amount of EU funding, he feared it now risked no longer being centre stage in major initiatives.
Elliott commented that it still remained difficult to see clearly what the issues may be because of the pandemic, but added: 'The characteristic of the cancer patient movement is a "can-do" attitude, so I'm reasonably confident that the UK research community will find ways to carry on and collaborate across Europe, as we do in the rest of the world.'
A new relationship
Pre-Brexit free movement, 'a significant enabler of collaboration', has gone, causing Elliott concern over paediatric oncology and rarer cancers, and the possibility that UK patients may not be eligible to take part in trials being run in the EU. He warned of continuing uncertainty as a new relationship is developed with the EU on immigration and regulatory status '…and how we will continue to partner with the EU on clinical trials and research going forward'.
Discussion flowed on. Question: Might the UK, being outside the European Medicines Agency (EMA), offer speedier approval of drugs and therapies from the Medical and Healthcare products Regulatory Agency (MHRA), making it an attractive test bed for innovation? Sullivan said the new Horizon Europe programme remains important, with the Erasmus programme no longer accessible to the UK and replaced by a 'global talent visa', with concerns that movement between the UK and Europe for research would become more complex and costly.
How will Brexit affect funding that enables cross border research? While Covid has impacted on charitable income, the panel felt UK participation in the Horizon Europe research and innovation framework programme was important. 'The UK has some of the best early phase clinical trial activity, not just in Europe but probably in the world,' Sullivan said, pointing out the UK's 'amazing infrastructure for clinical research' to run complex trials.
Data protection and exchange of personal data with GDPR regulations is still an issue, but confidence remains over an agreement on data adequacy for data flow. CRUK funds 30% of research fellows, and 43% of post-doctoral researchers from the European Economic Area (EEA) who will hopefully be able to 'work around Brexit'. On the upside, the Brexit deal provides 90-day visa-free visits.
In conclusion, Kearns questioned the panel's optimism about post-Brexit cancer research. Porkess is optimistic about UK-EU research collaborations, and Sullivan believes research relationships built up over years will remain strong. Elliott added that patient anxiety could be eased with good communication and engagement, while Samuel feels positive about conversations over 'moves to bolster' the UK's life sciences and clinical trial environment.
Profiles:
Emlyn Samuel leads the policy department at Cancer Research UK and a team of policy, public affairs and campaigning experts who work to drive policy change up to international levels.
Jim Elliott is a member of the National Cancer Research Institute (NCRI) Consumer Forum and is part of the NCRI Consumer Involvement Advisory Group.
Professor Pam Kearns is Chair of Clinical Paediatric Oncology at the University of Birmingham, an Honorary Consultant Paediatric Oncologist at Birmingham Women and Children's Hospital, and Director of the University of Birmingham's Institute of Cancer and Genomic Sciences and Director of the Cancer Research UK Clinical Trials Unit (CRCTU).
Pharmaceutical physician Dr Sheuli Porkess is Interim Medical Director at the British Pharmaceutical Industry Association. She began her career in the NHS and has held numerous medical leadership roles in companies at a national, regional and international level.
Richard Sullivan is Professor of Cancer and Global Health at King's College London, Director of the Institute of Cancer Policy, and co-Director of the Conflict and Health Research Group.