Plasma vaporisation
'Effective, safe and cost-efficient'
Benign prostatic hyperplasia (BPH) is the most common cause of voiding disorders in men. The hyperplastic tissue constricts the urethra and leads to lower urinary tract symptoms (LUTS) that can be differentiated into irritative and obstructive symptoms. These can quite dramatically impact on the quality of life of affected people.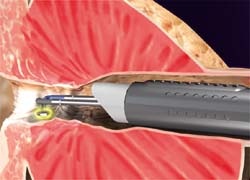 Transurethral resection of the prostate (TUR-P) has been the most effective therapy to date. Since the January 2008, TURis (Transurethral resection in saline) plasma vaporisation offers a minimally invasive alternative to conventional TUR-P, which substantially enhances safety in the surgical management of benign prostate syndrome and does so without sacrificing efficacy or cost-efficiency. A study conducted by Dr Alexander Mueller (Triemli City Hospital, Zurich, Switzerland) showed how safe this method actually is; BPH patients were exceptionally treated with plasma vaporisation whilst continuing to receive their oral anticoagulation medicine.
Due to the TURis plasma vaporisation electrode development, and its addition to the current selection of TURis electrodes, the method combines the advantages of vaporisation with the benefits of bipolar resection. The electrical current mainly flows directly from the electrode loop to the electrode tube as the electrical impedance of the surrounding saline solution is significantly lower compared to the human tissue (1:10). Thus the current flow is locally limited and, compared to the monopolar technique, the leakage current is reduced by 70%. A patient plate is not required and there is a reduced risk of obturator nerve stimulation. Furthermore, the use of 0.9% sodium chloride solution as irrigation fluid theoretically eliminates the risk of TUR syndrome. The bipolar-guided high-frequency current creates a plasma field around the electrode. Energy emitted by the plasma is conducted to the surrounding prostate tissue, thereby leading to safe vaporisation.

Through simultaneous vaporisation and coagulation of the tissue surface, bleeding is, for the most part, prevented during plasma vaporisation, while a smooth, evenly structured tissue surface is left behind (prostatic compartment). Any potentially occurring bleeding can be stopped quickly with the large surface of the semi-spherical electrode. This means that, due to its good coagulation properties, plasma vaporisation is even possible in patients with an elevated bleeding risk. Just how gentle this method appears was shown by a new video presentation about an observation of use study conducted under the direction of Dr Alexander Mueller, Triemli City Hospital. Thus far, this series has enrolled 14 patients suffering from obstructive BPH and concomitantly taking anticoagulants. The conventional TUR-P is usually not performed on these multi-morbid patients. But in this case, by way of exception, plasma vaporisation was conducted even while continuing their oral anticoagulation. Coumarin derivatives, or in some cases a combination of clopidogrel and acetylsalicylic acid, were the anticoagulants given.

So far, the results obtained indicate that plasma vaporisation can be used safely; in this remarkable study, surgery was performed successfully even on patients with quick tests up to 20%. In both the intra- and postoperative phases, no patient suffered any postoperative bleeding that required an intervention or even a blood transfusion. 'Plasma vaporisation of the prostate appears to be beneficial, especially for anticoagulated patients with obstructive BPH needing surgery. We can surgically manage these patients while keeping them on their oral anticoagulant medication and without altering their blood thinning; this in turn helps lower the rate of potential thrombo-embolic complications,' Dr Mueller explained.
Basically, the method is in fact well-suited for all patients, because – owing to its safe and effective tissue resection – it is associated with short catheterisation times and thus short hospital stays.

Source: Press conference: 'TURis plasma vaporisation – an innovation in the therapy of benign prostatic hyperplasia' at the 60th Congress of the German Society of Urology in Stuttgart this September.
Olympus contact:
info@plasma-vaporization.com


Plasma vaporisation: high resection rates with minimal heat generation
Plasma vaporisation takes place practically without direct contact between electrode and tissue and without generating strong heat ('cold vaporisation'). By vaporising the irrigation fluid, the bipolar-guided high-frequency current produces a thin gas coating around the electrode that allows it to glide over the tissue ('hovering technique'). Following a short initial electrical impulse (<100 ms), the gas creates a constant plasma field. The energy emitted by the plasma is conducted to the first cell layers of the prostate tissue, thereby leading to its locally circumscribed vaporisation. During this process, the accumulation of cells is dissolved gently.
Whereas conventional vaporisation methods do not remove the tissue effectively, or they require very high amounts of energy, plasma vaporisation, despite being a gentle method, achieves high ablation rates and good therapeutic outcomes. Hence, plasma vaporisation is indicated in patients with both small and large prostate volumes.