Philips partners with the Stockholm County Council
Royal Philips today announced that it has signed a partnership agreement with the Stockholm County Council (SCC) to jointly innovate in health care.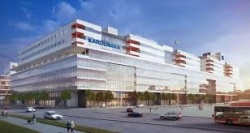 This comprises R&D, an innovation program and education, and the procurement, installation, maintenance, upgrading and replacement of most of the medical imaging equipment for the new hospital site for Karolinska in Solna, Sweden for a 14-year term. The contract was awarded following a public European tendering process and has an option for the SCC to extend the contract with another six years. Financial details of the agreement will not be disclosed.
New university hospital facilities in Solna, part of the metropolitan area of Stockholm, are currently under construction and scheduled to be opened in late 2016. Today, the existing Karolinska University Hospital is one of the leading academic hospitals in the world and the new hospital has the ambition to further strengthen this position. The new Karolinska University Hospital will take a truly patient-centric approach to health care, and develop new care pathways by integrating patient care, clinical research and education. As a major teaching hospital, the new hospital will educate the medical specialists and healthcare professionals of the future.
In line with this approach, the agreement has a strong focus on innovation and collaboration. The new Karolinska University Hospital will have access to state-of-the art imaging solutions and services, including those of other vendors, for a multi-year term at predictable costs. The managed equipment services include the procurement, system integration and timely updates to ensure that the new hospital will be provided with the imaging functionalities that its departments require for the optimal delivery of care. Moreover, Philips will establish a research & innovation hub at the new Karolinska University Hospital that will bring researchers from the medical technology industry, hospital and academia together to help facilitate a closer link between the delivery of care and clinical research. This is expected to contribute to new research findings being translated into new therapeutics and treatment methods faster.
"With this innovative agreement, Philips, the Stockholm County Council and Karolinska University Hospital are committing themselves to work together and enable the high innovation pace that is necessary to address future health care challenges," said Karen Sorensen, CEO Philips Nordic. "For Philips, this agreement fits perfectly in our strategy to become a solutions company in health care, where we partner with our customers to transform health care in multi-year engagements, with performance-based revenue models."
The procured imaging equipment such as MRI, CT, ultrasound and interventional X-ray systems will be owned by the SCC and will be used throughout the new hospital in radiology, cardiology, neurology, oncology, and pediatrics for both patient care and clinical research.
The new Karolinska University Hospital will be operated with a low environmental impact. Philips aims to contribute to this with a strong range of Green Imaging Systems, which include for example MRI systems that have 20% lower energy consumption than the industry average.

More on the subject:
More on companies: