Article • Carestream congress presence
New applications and equipment refinements showcased at ECR 2023
The European Congress of Radiology (ECR) in Vienna is among the prime opportunities to see the latest in imaging technology and learn how these advanced systems are put to use for the benefits of patients. With their booth in the ECR expo area, Carestream checked all of these boxes, attracting the attention of many congress-goers. The company showcased latest additions to their product portfolio, including many quality-of-life features for radiographers, and gave insights into their commitment to tackling a devastating lung disease.
Whenever Luca Bogoni, PhD, talks about Carestream's contribution to combat idiopathic pulmonary fibrosis (IPF), it's clear that he is convinced that advanced X-ray imaging will pave the way for improved diagnostic and, eventually, treatment options. Addressing the collaboration with the Open Source Imaging Consortium (OSIC) to fight IPF, the company's Head of Advanced Research and Innovation says: 'We want to create a comprehensive understanding of disease progression: How does it manifest at what stage? How can we adjust imaging procedures to achieve earlier diagnoses at lower doses? This knowledge could lead to improvements in prognosis, potentially saving many lives. Our expertise in X-ray can drive new insights for IPF, but other diseases as well.'
Recommended article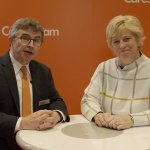 News • Earlier detection and treatment
Carestream Health is funding and participating in an innovative pilot with OSIC that could lead to radiographs providing an early window into manifestations of IPF that are currently undetected.
A cornerstone of this undertaking is what Dr Bogoni summarizes as 'democratization of access': The new-found insights should not be contained within an IP, but made available for open research and development efforts, for the benefit of all.
While the data collection for project OPUS (OSIC Pulmonary Understanding Study) is just getting started, the expert is confident that the unique approach to data donation from ca. 2000 IPF patients around the world will generate actionable insights in the foreseeable future.
New detector design: when less (weight) is more
Visitors at Carestream's ECR booth also had the opportunity to see the company's latest products. One notable addition to the DR portfolio is designed to – quite literally – lighten the workload of radiographers: The new Lux 35 detector has a glass-free design, resulting not only in a noticeably weight loss, but also reduced breakage from drops.
Upgrades to the DRX Evolution Plus X-ray room system also aim to improve ease of workflow: the redesigned tabletop is now flat, removing the rails that can cause strain and discomfort for the radiographer and their patient. Underneath, a new rotation tray makes it easier to adjust the orientation of the detector, allowing for greater flexibility and further minimizing the risk of equipment damage from repositioning. Further refinements have been made to the system's "smart" features, such as an improved camera setup for patient position monitoring.
The focus on quality-of-life and workflow enhancements were met with great interest from ECR attendants, with a steady stream of visitors at the Carestream booth. (WB)
More on the subject:More on companies: