Article • Neurological diseases
No health without brain health
A largely aged population is already a reality in some countries, and this will become a worldwide problem by 2047, when the number of the Earth's old people is likely to surpass the number of young people.
Report: Brigitte Dinkloh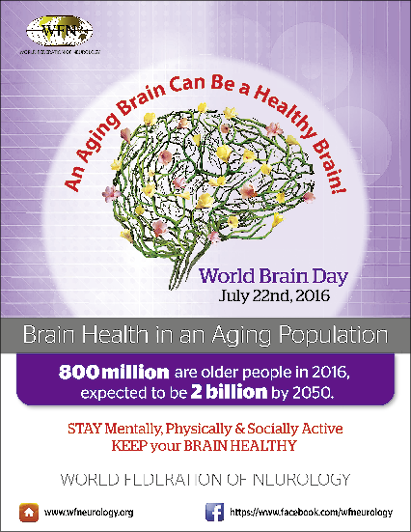 Far-reaching social, health and economic consequences are predictable, not least an increase in neurological diseases such as stroke, dementia and Parkinson's disease.
The World Federation of Neurology (WFN) has dedicated this year's World Brain Day, to be held on 22 July, under the heading Brain Health and the Ageing Population. 'Politicians and health authorities are concerned about the ageing population and the challenges this presents, but mental health is often still not on national and international health agendas,' laments Professor Raad Shakir, President of the WFN.
Currently, 800 million people, or 12% of the world population respectively, are over 60 years old. By the 2050 this number is expected to increase to 2 billion people, representing 21% of the population. Whilst the majority (70%) currently live in the highly developed countries, by the middle of the century the predominant number of those aged over 60 (80%) will be found in less developed countries. With an ageing population the proportion of healthcare expenditure they take up –currently around 50% in developed nations, will increase to more than 65% by 2030 and, around 2050, this process will also happen in the less developed countries.
With ageing the frequency of stroke, dementia and Parkinson's disease increases. Neurological diseases already have more of an impact than cardiovascular diseases and cancer. Stroke is the most common neurological disease and the number one cause of disabilities. 'Yet, stroke is a treatable and avoidable disease. With effective intervention the outcome for patients can be improved and the severity of the disease lowered. The best precaution against stroke is controlling high blood pressure and to stop smoking,' explains Professor Mohammad Wasay, from Karachi, current chairman of the WFN Public Awareness Committee.
He also describes dementia as avoidable and treatable, although genetic predisposition also plays an important part. Around every ninth person worldwide currently suffers dementia. It is a challenge for society as a whole, because those affected require increasing amounts of care and care facilities. With around an estimated 818 million dollars spent on the 46 million people affected worldwide, dementia is already the most expensive brain disease. It is predicted that, by 2050, dementia will affect 131 million people.
The situation is particularly bad in Cambodia, Myanmar and parts of Africa, which is absolutely unacceptable.

Professor Wolfgang Grisold
Professor Wolfgang Grisold, WFN General Secretary, is calling for more investments in neurological treatments and care. 'Limiting healthcare expenditure is not a suitable option, in view of the increasing number of those affected. Society must bear the cost of adequate and humane care of older people and neurologists should be advocates for these patients,' he believes.
Extending rehabilitation capacities and capacity for long term care should be among the highest priorities of an ageing society. Palliative medicine is also likely to play an increasingly important role, because only palliative medicine with a neurological orientation will be able to limit the effects of an incurable disease and improve quality of life.
'Although we have already taken some big steps towards diagnosis and treatment of neurological diseases, there's an ongoing disparity regarding access to treatment. This becomes particularly clear with the distribution of hospital beds available in neurology worldwide. In Africa there are only 0.3 beds available per 100,000 inhabitants; in Southeast Asia it is 0.8 beds. The lower the household income of a region the lower the number of hospital beds for neurology, neurosurgery and paediatric neurology,' Grisold points out. 'The situation is particularly bad in Cambodia, Myanmar and parts of Africa, which is absolutely unacceptable.'
The declared objective of the world federation is to ensure access to neurological diagnosis and treatment for patients worldwide.'I hope that World Brain Day can support us with this objective,' he adds.