New Optical Breast Imaging System
Advanced Research Technologies Inc. ("ART") announced the first sale of SoftScan® optical breast imaging system to the Sunnybrook Health Sciences Centre ('Sunnybrook") in Toronto, Canada. Sunnybrook is the first health centre to purchase a SoftScan imaging system since the Canadian company received regulatory approval for commercialization in Europe and Canada for its optical breast imaging device.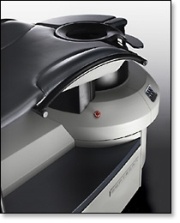 Dr. Gregory Czarnota, Radiation Oncologist at Odette Cancer Centre, Sunnybrook Health Sciences Centre, and Scientist in Imaging Research at Sunnybrook Research Institute, is the principal investigator of a pilot study to determine the role for the SoftScan system in monitoring response to treatment of breast cancer, particularly neoadjuvant therapies. He works with Dr. Martin Yaffe, Senior Scientist in Imaging Research at Sunnybrook Research Institute, in advancing this programme. Dr. Czarnota commented: "We are very encouraged by the results obtained so far with the SoftScan system, which offers us an objective method of measuring treatment response to breast cancer. Medical oncologists such as myself want to quantify, to put a number on what's occurring. SoftScan enables them to do this because it can identify tumours by their metabolic signatures."

"We are proud to partner with Dr. Czarnota, Dr. Yaffe, and their team at Sunnybrook as they conduct ground-breaking research into breast cancer treatment monitoring," said Sebastien Gignac, ART's President and CEO. "The SoftScan imaging system's ability to provide highly-sensitive functional information on the evolution of cancer lesions allows ART to contribute to the development of personalized medicine and help maximize the efficacy of therapies for women with breast cancer", concluded Mr. Gignac.

About the SoftScan® system

The SoftScan ® optical breast imaging system has been designed first as a complementary diagnostic tool to mammography, with ultimate uses in the detection and treatment monitoring of breast cancer. Its non-invasive, painless approach uses time-domain optical imaging technology, which may allow clinicians to better locate and characterize breast tumors as benign or malignant and could provide faster assessment of therapeutic effectiveness. Unlike mammography whose use must be strictly limited, the SoftScan system emits no radiation and can be safely used as often as needed to monitor patients. The device was created and developed by ART Advanced Research Technologies Inc., and has obtained regulatory approvals for its commercialization in Canada and in Europe.