Positron emission mammography is coming to Europe
Every medical congress is an opportunity for the manufacturers to showcase their products. This year's congress of the German Röntgen Society was no exception -- and one innovation particularly caught the attention of our European Hospital team: positron emission mammography, PEM for short.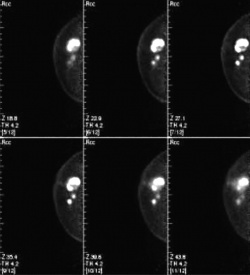 At the Medicor booth we met with Stefanie Groes, Regional Director of the company that will be selling the scanner in Germany, Austria and Switzerland, to hear about the technology of the new device and its applications.
The PEM scanner is a mobile unit about the size of an ultrasound system. Two detectors acquire twelve slice images from which a high-value 3-D PET image is constructed. Just like a PET scan, the PEM image shows FDG accumulation. But, there the similarities end. PEM offers a much higher resolution than PET and the new technology's high sensitivity (>90%) and specificity (88% NPV and 92% accuracy) may turn out to be the key to detect lesions as small as 1 to 2 mm.
'PEM detects tumours long before ultrasound mammography and MRI even begin to get inkling that there might be something there. Malignant structures, no matter what size, literally gobble up glucose and store it. An MRI scanner can visualise tumours only when they have vascularised -- that means, when they have developed a blood vessel system,' Stephanie Groes explained.
However, despite this impressive diagnostic performance, she added, PEM will most likely never be used for mammography screening.
In the US, where the PEM scanner is being manufactured by NaviScan, the new technology has proved particularly valuable in cancer follow-up. As soon as a tumour is detected it can be staged or removed directly by biopsy. 'Mammography and MRI often visualise lesions as a tissue mass. PEM images, however, allow the physician to distinguish individual tumours or multiple metastases,' Stefanie Gores pointed out, adding that the biopsy results can be assessed in one FDG cycle. PEM may also be used to monitor the body's response to chemotherapy.
Before PEM can conquer German breast cancer centres a legal framework has to be established and necessary approvals obtained. Medicor is confident that it will receive the support of the authorities.
At this point it is clear that PEM – unlike other established breast cancer detection modalities – will not come under the auspices of radiologists because the technology, like whole-body PET, is subject to strict regulation on the use of the radioactive tracer FDG. Therefore, the first PEM scanners will be installed in PET centres. Radiology practices that have nuclear medicine facilities will follow later. 'This is necessary for practical purposes since FDG with a half-life of 110 minutes requires quick action,' the Medicor regional director explained 'The later an image is acquired, the longer the scan times become to give the machine sufficient time to compute.'
Complementing the many new methods for breast cancer detection, PEM promises to fill a diagnostic gap.