New medical options by tobacco plants
Bayer opens Biotechnology-Center in Halle for future-oriented technology made in the greenhouse.
Bayer and its affiliated firm Icon Genetics developed an own production process which provides the opportunity to make therapeutic proteins from tobacco plants. The pilot plant for biotech drugs opened on June 16 in Halle, Saxony-Anhalt.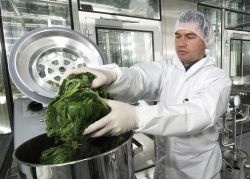 In the future, the active substances produced in the tobacco plants could be used to develop new approaches to the therapy and prevention of diseases for which the current medical options are not satisfactory.
"This project is intended to improve our chances of finding new therapies for life-threatening diseases by using drugs obtained with biotechnological methods," explained Dr. Wolfgang Plischke, a member of the Board of Management of Bayer AG whose responsibilities include innovation. "Not all cancers are the same. There are many types of tumor disease which have to be treated individually with specific active substances. The objective is to use this process to produce an individual drug for each patient."
At Icon Genetics in the Halle Biocenter, 26 people are currently employed in research into and the development of biotech active substances produced in plants. These substances could be used, for example, to treat cancer or as a vaccine against influenza.
Biopharmaceuticals offer perspectives for beating disease
Today 15 percent of all medicines are produced using biotechnology, and as many as one in four new drug products is a biopharmaceutical whose active ingredient is produced in bioreactors using bacteria, brewer's yeast and insect or hamster cells, for example.
The production of "personalized medicines" using biotechnology processes is an especially important area. Proteins produced in tobacco plants can be obtained rapidly and in high yields, and this offers prospects for therapies which have previously been impracticable because of the length of time taken to produce them or their economic viability.
The first protein produced in the pilot plant in Halle which will be a candidate for clinical development is a patient-specific antibody vaccine for the therapy of non-Hodgkin's lymphoma (NHL). NHL is a malignant disorder affecting the lymphatic system. The objective of the new therapy is to activate the patient's immune system, enabling the malignant cells to be targeted and destroyed by the body's own defense system. Phase I clinical testing is scheduled to begin in 2009.
"Using our method, the tobacco plant is able to produce large quantities of complex compounds for medicinal use - and it is a particularly rapid, simple, safe and low-cost method", says Professor Yuri Gleba, Managing Director and founder of Icon Genetics.
More on the subject:
More on companies: