Sponsored • Digital solutions for radiology
How to accelerate healthcare innovation in AI
The potential of artificial intelligence (AI) in medical imaging remains a hot topic in healthcare, with particular promise in radiology. With estimated global sales of €400m, radiology AI is the fastest growing market segment within the overall global radiology market – and it is expected to continue growing dynamically, with an estimated compounded annual growth rate of more than 25 percent through 2025.
As the number of AI powered applications that support radiologists in tasks such as screening, triaging or quantification increases, it becomes increasingly clear that the successful development and implementation of solutions that truly add value require expertise across industries.
Players in the field are exploring ways how to best team up. Tapping the thriving Radiology AI ecosystem with established med tech companies as well as aspiring start-ups, Bayer recently announced three collaboration agreements for its digital platform, Calantic Digital Solutions, as well as an AI accelerator program. "These milestones reflect our focus on driving innovations that benefit patients and their physicians, including leveraging the vast potential of AI", said Gerd Krüger, Global Head of Radiology at Bayer.
Expanding offering on medical imaging platform
Bayer inked deals with app developers Quantib, ClariPi, and EXINI Diagnostics to strategically expand the offering on its medical imaging platform Calantic Digital Solutions. The platform was recently launched and has expanded Bayer's comprehensive Radiology portfolio beyond contrast media, medical devices, software and services. Calantic Digital Solutions delivers access to applications, including those enabled by AI, for medical imaging. The offering is orchestrated by body region. With the new collaboration agreements, Bayer is broadening the already available options for thoracic and neurological diseases on the platform by including tools which aim to aid breast and prostate imaging. More disease-specific application packages will be added moving forward. Bayer also provides services around installation, configuration, and training of the platform and its applications.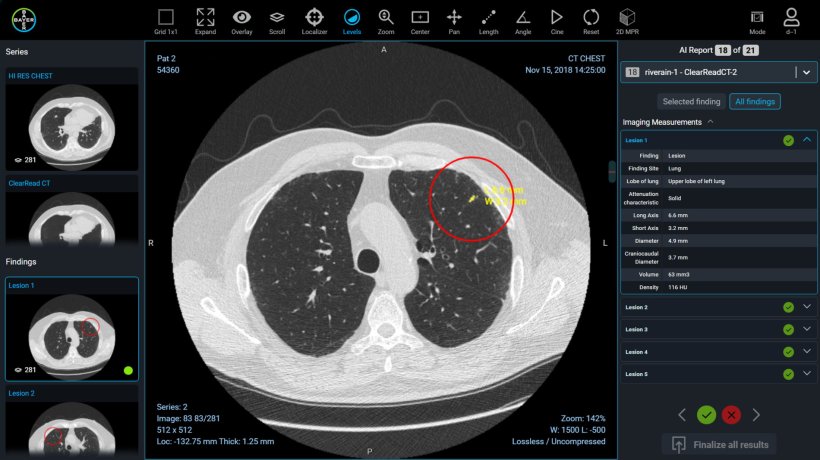 Accelerator program for early- to late-stage AI projects
In addition, Bayer has recently launched Calantic Spark, a new accelerator program for medical imaging app developers to further foster innovation in radiology AI. The program will initially focus on North America and Europe and is planned to be expanded to other regions including Asia-Pacific. Calantic Spark is intended to accelerate market readiness for early- and late-stage projects and offerings, providing advice spanning medical, regulatory, reimbursement, and market access expertise, and potentially offering a pathway towards commercialization and distribution through Calantic Digital Solutions.
Combatting key challenges in radiology with AI
Innovation powered by AI is needed more than ever: aging populations and changing lifestyles are leading to an increase in chronic conditions such as cardiovascular disease and cancer. Consequently, the demand for medical imaging to detect diseases, guide treatment decisions and support therapy planning is growing. AI comes with the value proposition to accelerate diagnosis and increase the throughput of radiological examinations. Digital technologies can help manage the mounting workload of radiologists and their teams, ultimately striving to improve patient care.
Learn more about Calantic Digital Solutions and Spark here: https://www.calantic.com/
Source: Bayer
More on the subject:
More on companies: