MRI powerhouse breaks new ground in medical research
At RSNA 2012, Siemens is launching its new MRI addressing academic research centres and university hospitals. According to Bernd Ohnesorge, the Magnetom Prisma 3.0 T enforces the company's major commitment to advancing research, bearing testimony to Siemens' innovation leadership in the field. In Chicago, the CEO of the Siemens MRI business unit presented the 3 T system for which the company will apply for FDA and CE approval and has a planned European availability in the second half of 2013.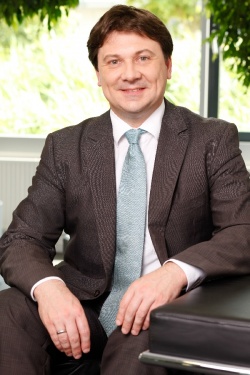 European Hospital:
Please describe what's revolutionary about your technology.
Bernd Ohnesorge: Our new Magnetom Prisma has been developed on the same technology platform as our 3-tesla flagship Magnetom Skyra. Where the Skyra is the high-end machine for clinical imaging, the Prisma is an extremely sophisticated tool for basic and clinical research. The power of the magnetic field and of the gradient fields goes beyond that of any machine in market. Advanced magnet technology ensures unheard-of image quality, visualization of details, and precision.
Why are gradients so important?
Ohnesorge: Gradient magnets have an enormous influence; they allow for the fine-tuning of an MRI machine, focusing it on a specific region of the body. Just to give a flavour in terms of numbers: Our totally new gradient system reaches up to 80 mT/m with a slew rate of 200 T/m/s. Peak amplitudes of existing devices average roughly 45 mT/m. It's simply like a tuned engine in a Porsche sports car. Actually, it's a pity it has no wheels.
What about risks for the patient?
Ohnesorge: We never make compromises on quality and safety! We have integrated highly intelligent management technology to ensure that this impressive additional power can be applied without running the risk of heating up patient tissue. Researchers and clinicians will find it safe to use this great device.
What is the aim of the application?
Ohnesorge: We expect researchers to go for the most demanding and challenging medical applications. This will include exams which are currently rather too time-consuming using an MRI. At the same time, our existing systems such as the 3tesla Magnetom Skyra, for advanced clinical imaging are already being improved regarding workflow aspects, and they sport significant software support for workflows – this will help integrate new applications into daily work.
Please name examples of new application areas.
Ohnesorge: Up to now, it has been very difficult to visualize nerve tracts using MRI with an acceptable precision. Our new system does exactly that. Basic research profits from an improved general understanding of how the brain works, but also from the visualization of the concrete anatomy of the individual patient. Already with MRI in use today, tumours can be delineated very precisely. The new system is designed to define the surrounding tissue, differentiating between nerve tracts and soft tissue. This illustrates the benefits of the device for both academic research and future advanced clinical patient care.
How does this innovation fit into the framework of Siemens' Agenda 2013?
Ohnesorge: One action field of the Agenda 2013 is innovation, with an imperative of entering new markets or fields of application. This happens in the area of entry and mid level products. For instance just this spring we introduced our 3 Tesla Magnetom Spectra with an outstanding price-performance ratio. And of course this happens also in the high-end: With our Magnetom Prisma we expect to open up new possibilities in areas such as diffusion imaging or in oncology, this product can contribute to improved differentiation of tissue such as, e.g., malign from unaffected lymph nodes. Prostate and mamma are further research areas which may make their way into clinical decision making.
What are additional benefits?
Ohnesorge: Customers who have been operating our Magnetom Trio, a highly reliable MRI research scanner in the market since a decade ago, can upgrade that device efficiently to our new Magnetom Prisma. This helps centres of excellence to benefit in two ways: Research wise they can even increase their high level of quality by transforming a state-of-the-art tool into this power machine. And from a financial perspective they do not have to invest into a completely new system but just in the upgrade: while the magnet of the Magnetom Trio remains in place, most other components can be replaced on site without remaining changes to buildings. I think this is the perfect option for hospitals and institutes to achieve a significant technology upgrade.
While 1.5 T systems provide the backbone for diagnostics, 3.0 is now being added to the ballpark. What about subsequent game changers?
Ohnesorge: With Magnetom Prisma we have such a game changer in our portfolio. It's actually a system to bridge the gap between pure clinical research and high-end clinical imaging. Of course, ultra high-field scanners like 7.0 T systems are another exciting field, which we are exploring together with leading institutes. However as yet, they will not be approved by the regulatory bodies for routine clinical use today. For instance, European guidelines prohibit approval of devices in excess of 4 T. But let's see what the future brings.
How will your new MRI be received by the radiological community?
Ohnesorge: We are convinced, that radiologists and especially advanced research institutes will love this great new device! It is extremely powerful and versatile, and it opens up new horizons for research.

Profile
Bernd Ohnesorge, PhD, is the CEO of the Business Unit Magnetic Resonance within the Healthcare Sector of Siemens AG. In his role, he oversees for all global MR marketing, sales, R&D, and manufacturing activities. Dedicated to the advancement of medical imaging technologies, Bernd Ohnesorge previously held several leading positions in Siemens Healthcare including the CEO position of Siemens Healthcare in China and North-East Asia, as well as the CEO position of the Business Unit X-Ray Imaging Products. He joined Siemens Healthcare after the completion of his master's degree in data communication and digital signal processing in 1994. While working for the Computed Tomography Business Unit, he finished his PhD thesis on methods for cardiac CT imaging in June 2002, at the Institute of Clinical Radiology of the Ludwig-Maximilian-University in Munich, Germany.
Bernd Ohnesorge has authored and co-authored several books and over 30 scientific articles, and holds 16 international patents. Dedicated to continuous training and education, he assumed a guest professorship at the medical school of the Tongji University in Shanghai and is part of the guest faculty for the MBA courses at Shanghai Jiaotong University. After returning 2010 from a four year term in Shanghai, China, he resides with his wife and two children in Erlangen, Germany.
More on the subject:
More on companies: