MR Breast Care with Open Bore — and it's Pink!
On this years ECR Siemens Healthcare presents its dedicated MRI breast scanner. With it's pink design it immediately catches the eye on the company's booth. In an interview with EH, Boris Tolkien, Vice President Marketing Magnetic Resonance, Siemens Healthcare pointed out the highlights of the 1.5 Tesla system beyond its colour.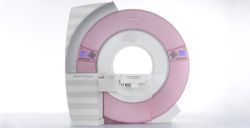 What was the idea behind Magnetom Espree-Pink?
The goal of Siemens is to provide the highest possible confidence in the diagnosis of breast cancer. With its high image quality the MAGNETOM Espree-Pink offers additional diagnostic information compared to the common diagnostic systems like mammography and ultrasound. The new MR scanner from Siemens is an integral part of Siemens breast care solution.
Especially for high risk patients with a family history or dense breasts who have to be examined regularly, an MR scan is to their best advantage, as it eliminates the radiation exposure. . E.G. in the US for these high risk patients MR breast scans are already recommended as standard.
What's the highlight of the system?
The specialty of the system is definitely its 70-centimeter magnet bore giving the highest comfort to the patient. All other dedicated breast scanners on the market have only a 60 cm diameter. The 70 cm bore is especially important, as the breast coil itself requires space and women are exmined resting on their stomach. Normally, the women are very nervous before and during examination. so it's even more important to make the examination as comfortable as possible for them. So the large bore also helps to improve the image quality further, as patients feeling comfortable move less.
What software features does the system provide as yet?
The system comes together with the Siemens Multi Modality workstation where the syngo BreVis and syngo BreVis Biopsy applications run on. They enable the radiologist to accelerate the workflow, so that he can perform more exams in less time. The application snygo BreVis combines the anatomical image information with the pharmacokinetical (contrast agents admission) information. Here the speed at what the contrast agent is taken up by the tissue delivers additional indicication for suspicious areas.
With the application syngo Grace you can also do MR breast spectroscopy. This means the radiologist then has three information sources available which he can use on the monitor for his diagnosis: the anatomical, the pharmacokinetical and the Spectroscopy.
More on the subject:
More on companies: