Sponsored • Lab diagnostics
Molecular scalable solutions for laboratories of every size
One size does not fit all when it comes to diagnostics. Different diagnostic locations need solutions that meet their needs, whether for on-demand testing in a healthcare setting or a laboratory managing population screening. Finding the right solution can be a challenge especially when the future may change what a laboratory needs, Hologic Inc. reports.
"Hologic Molecular Scalable Solutions are well placed to meet the growing diagnostics testing needs of laboratories of all shapes and sizes, from a single patient rapid result in about an hour, to population level screening, meeting the molecular diagnostic needs of laboratories today and in the future.
The portfolio of systems has recently expanded with the addition of the on-demand, molecular-testing Novodiag® System, Hologic's Molecular Scalable Solutions portfolio. This system offers a simple fast way to pinpoint patients most at risk with targeted, multiplex and syndromic on-demand testing.
Novodiag's high multiplex technology is precision engineered for simplicity, accuracy and affordability across a broad and growing menu of high and low plex assays to detect infectious diseases and for antibiotic resistance management. It is a small, quiet, stackable, fully automated platform that combines easy to use functionality with molecular performance.
With a just a few simple steps the Novodiag system, enables fast, life-saving diagnoses, delivering precise, easy-to-read results in an hour, so improving efficiency and bringing clinical confidence closer to the patient. Infectious diseases are detected from a single use cartridge in about one hour and a comprehensive menu of assays for screening of antibiotic resistances, gastrointestinal, respiratory (including Covid-19) and hospital acquired infections is available. Each Novodiag assay can detect multiple targets simultaneously, for example, the Novodiag Bacterial GE+ assay has 14 targets, while the Novodiag Stool Parasites assay detects 26.
For settings that need a larger on-demand capacity, Novodiag PLUS links up to four instruments. These can be stacked and controlled by a single computer and offer a total of four independent slots per instrument, adding flexibility and convenience.
For laboratories requiring systems with a higher throughput, Hologic's Panther Scalable Solutions offer a range of options with a broad menu of high performing assays, allowing laboratories to expand their testing menu while adding on flexibility, capacity and walkaway time.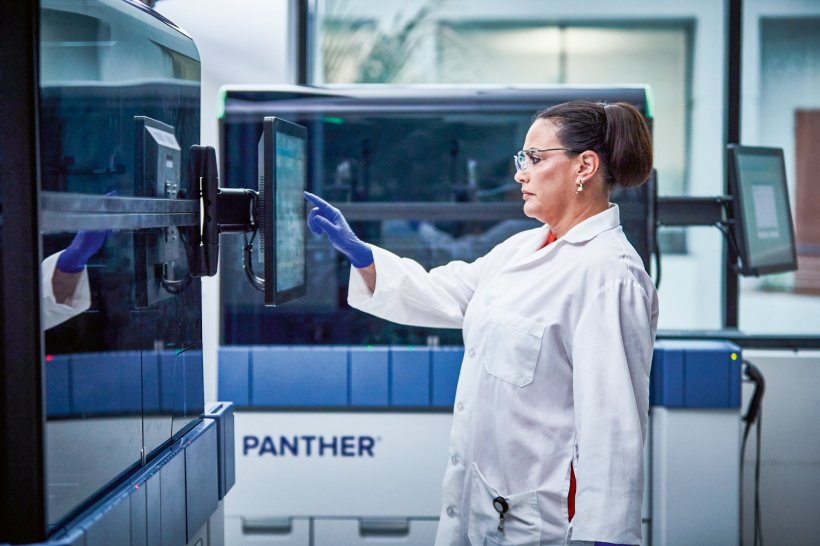 The portfolio's foundation is the Panther system, which was launched in Europe in 2010. This offers random access and full automation for molecular testing with a broad assay menu including tests for women's health, sexually transmitted infections (STIs), respiratory health, and viral load, as well as Open Access functionality for laboratory developed tests (LDTs). This menu enables laboratories to consolidate molecular testing onto a single platform.
The Panther System has additional add-ons including Panther Fusion, which launched in 2016 and provides additional IVD menu and the Open Access functionality, the Panther Plus, Panther Link and Panther Trax*.
The Panther Fusion module adds the ability to run real-time PCR, TMA and RT-TMA assays on a single, fully automated platform. This enables laboratories to consolidate testing, increase walkaway time and enhance flexibility.
With Panther Plus, laboratories can load more consumables directly on the instrument, allowing even greater walkaway time (up to 13.5 consecutive hours). Both fluids and waste can be changed while tests are in process, and an option for automatic liquid waste disposal is available. These features allow an additional 210 tests to be run in 24 hours, providing a total throughput of greater than 1,200 patient samples in that time.
Laboratories can gain additional efficiencies by using Panther Link, a software solution that creates a virtual connection allowing multiple Panther instruments to communicate with one another and function within a singular, streamlined workflow. Linked instruments can share information such as reagent kits and reflex test orders, enabling more efficient reagent utilisation and improved turn-around time. A dashboard command feature allows technicians to monitor instrument inventories, maintenance tasks and test results on a single screen from a centralised location.
Finally, the upcoming Panther Trax* will offer the ultimate in lab automation by physically and electronically linking multiple Panther instruments together into a single, powerful workcell that allows labs to increase testing volumes without increasing staff.
Taken together, these configurable options address the needs of today's laboratories, allowing them to increase operational capacity and testing volumes at their own pace, while building on the flexibility and streamlined user experience they require.
To find out more about how the Hologic's Molecular Scalable Solutions can meet the growing pressure and demands of today and tomorrow visit https://www.hologic.com/hologic-products/diagnostic-solutions.
*Not CE-IVD, not for sales.
More on the subject:
More on companies: