Molecular diagnostics platform
Second cartridge on the way to detect pathogens and antibiotic resistances in implant and tissue infections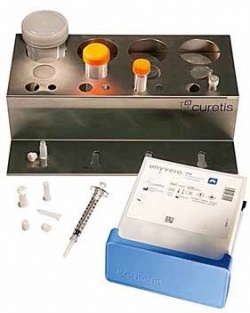 Curetis has developed its CE-marked Unyvero molecular diagnostics platform to provide clinicians with crucial information on infectious disease pathogens and their antibiotic resistances within four hours - saving up to several days compared to conventional microbiology culture.
The first application, the P50 Pneumonia cartridge, is already available. The second, to detect pathogens and antibiotic resistances in implant and tissue infections (ITI), is being developed with Heraeus Medical. One key application area will be orthopaedics, e.g. to diagnose infections after knee and hip replacements. 'Wound and surgical site infections are increasingly caused by bacteria carrying multiple antibiotic resistances,' explained Oliver Schacht, CEO of Curetis. 'In orthopaedic indications, infections often involve biofilms, i.e. communities of microorganisms that are very hard to open up and cultivate. Presently, it may take 7-15 days to obtain results from biofilm samples. This often leads to prolonged empiric treatment, followon surgery and increased morbidity and healthcare costs.'
The partners have teamed up with key European clinical opinion leaders to determine the pathogens and antibiotic resistances that need to be included in the ITI panel. 'The ITI cartridge is likely to include more than 40 and possibly up to 50 analytes,' he said. 'We expect an EU launch by the end of 2013.' Curetis is also completing a European clinical trial to further substantiate the clinical benefit of its P50 Cartridge. By the end of September, enrolment was complete, with over 800 patient samples collected. The trial will compare the cartridge performance with conventional microbiology culture, the current standard of care. The primary endpoint will be clinical sensitivity and specificity for the identification of 17 pathogens covered by the P50 panel. Curetis will systematically resolve discrepant results by PCR and sequencing.
As of October, the Unyvero products are distributed in Germany, Austria and Switzerland by Curetis, in The Netherlands by Mediphos, Russia by Bioline LLC, Turkey by Mikromed, and the Middle East by ATC.