Metal attacks norovirus head on
The Norovirus, which affects around 267 million people and is attributed to cause over 200,000 deaths annually (usually among the very young, elderly or immune-suppressed, or in 3rd world areas) can be rapidly destroyed by copper and copper alloys, scientists at the United Kingdom's University of Southampton confirm.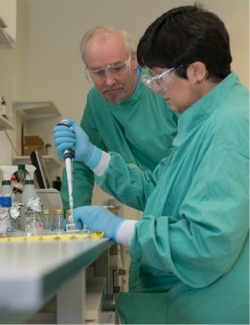 There is no specific treatment or vaccine against norovirus, which is contracted via contaminated food or water, person-to-person contact, or contact with contaminated surfaces. Thus outbreaks in hospitals result in ward closures as well as expensive deep cleaning.
Designed to simulate wet fomite and fingertip-touch contamination of surfaces, the Southampton study, showed norovirus was rapidly destroyed on copper and its alloys, with those containing more than 60% copper proving particularly effective.
Rapid contamination of the environment
Lead author Sarah Warnes, from the university's Centre for Biological Sciences, said: 'A single individual infected with norovirus can rapidly contaminate the local environment with billions of virus particles from diarrhoea and especially the explosive vomiting associated with this disease.
'The virus is able to persist in an infectious state, even after cleaning, and because the infectious dose is so low, ingestion of only a few virus particles can result in infection. Norovirus outbreaks have often originated from people touching contaminated surfaces.'
The team's research suggests that the replacement of conventional non-biocidal hard surfaces with copper alloys in high-risk areas within hospital wards or communal facilities may help to reduce the spread of norovirus infection, she said, adding: 'Infection transmission by touching contaminated surfaces is far more important than previously understood. Studies in our laboratory, and from other groups worldwide, have demonstrated that many bacterial and fungal pathogens, including those responsible for food-borne illness and hospital-acquired infections, are rapidly killed on copper alloy surfaces.
'The implications of this study, and others we have done, are that incorporation of copper alloy surfaces in hospitals could help to prevent the spread of many pathogenic microorganisms that are a challenge to healthcare today, including thenorovirus.'
Cleaning effectivly inactivates norovirus
Researchers acknowledge that containing norovirus outbreaks will always be difficult and require a combination of measures to limit infection spread – in combination with the incorporation of antimicrobial copper surfaces in high-risk areas – including cohorting and isolating patients, minimising movements of patients and staff within the hospital and care with food handling and reagents for hand hygiene and environmental cleaning that effectively inactivate norovirus but are safe to use.
'Copper alloys, although they provide a constant killing surface, should always be used in conjunction with regular and efficient cleaning and decontamination regimes using non-chelating reagents that could inhibit the copper ion activity,' she stressed.
However, further laboratory studies and large-scale clinical trials are needed to investigate whether copper surfaces can limit the number of norovirus outbreaks in the long term, Sarah Warnes pointed out.
Her team, which includes her supervisor Professor Bill Keevil, Chair in Environmental Healthcare at the University of Southampton, is conducting further research, which includes study of the efficacy of copper against respiratory viral pathogens that are also spread not only from coughs and sneezes but also by contact with contaminated surfaces.

Profile:
Sarah Warnes has been a Research Fellow in the Environmental Healthcare Unit at the University of Southampton since 2008. Her interests include viral glycoproteins; development of diagnostic kits to detect microbial pathogens; the use of antimicrobial surfaces in high-risk clinical and community environments to reduce infection spread; the mechanism of dry surface copper toxicity against microbial pathogens, and norovirus persistence in the environment.