Article • Fusion of CT and ultrasound
Merging the benefits of two imaging worlds
Radiologist Alexis Kelekis, Associate Professor of Interventional and Musculoskeletal Radiology at Attikon University Hospital, Athens, speaks about his work and developments in merging scans and techniques to gain greater accuracy in diagnosis and planning.
Report: Daniela Zimmermann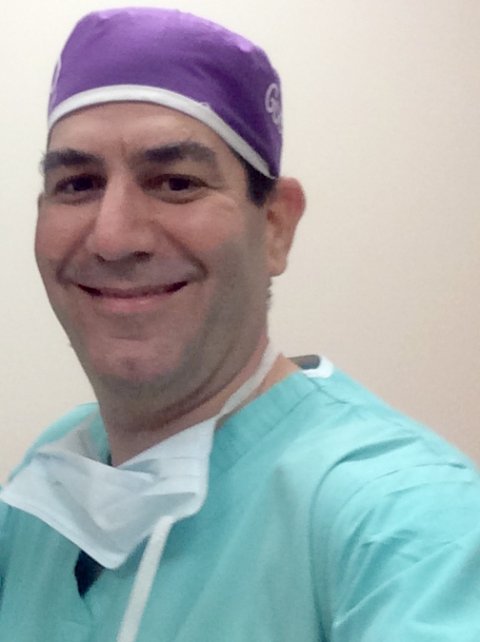 The benefits of fusion imaging are widely acknowledged. Favoured in clinical practice by radiologist Alexis Kelekis, he explained: 'The advantage of using fusion is to bring the best of two worlds together; I have the conspicuity and accuracy of the CT image and at the same time the free-hand capability of ultrasound.' By angulating the orientation to view different slices, the radiologist can easily direct the interventional tool to the relevant region of interest. 'Or,' he adds an analogy, 'we use CT as a map on a GPS, which tells the car – which, in this context, is the ultrasound probe – where to go.'
Ultrasound does have limitations compared to MRI and CT; it is a user-dependent system, results are not perfectly reproducible, and images are not always as clear or easy to read anatomically. On the plus side, it is portable, has real-time capability, excels at smooth tissue examination, is cost-effective, uses no radiation and requires less infrastructure. 'Healthcare systems are different. In countries such as Italy or China, the system is mainly based on ultrasound diagnostic procedures, whereas CT and MR are used more in the USA and Europe.'
Yet, when dovetailed with other modalities such as CT images, ultrasound fusion imaging offers additional user control and confidence with real time imaging speed seeing the fusion of selected images of the targeted region of interest (ROI) for interventional procedure guidance.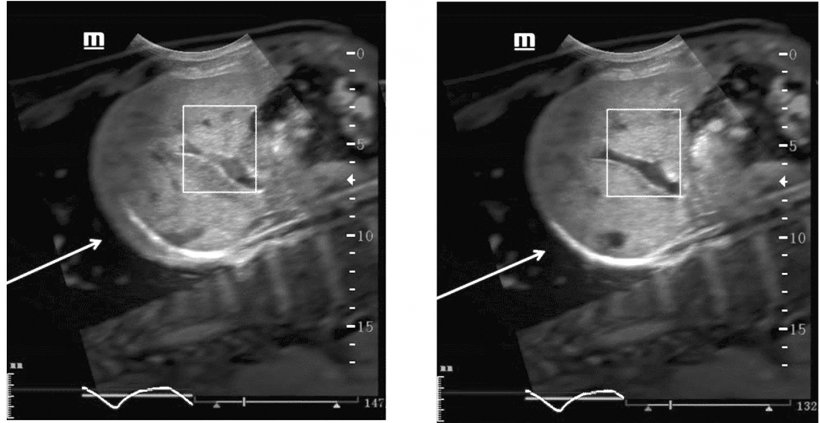 The benefits of 'elastic' images
More recently, Kelekis has been working with Mindray and the company's ultrasound fusion imaging technology, which can combine liver ultrasonic images with previously acquired abdominal CT/MR images in real time and in an overlapping manner. By integrating the information from CT/MR, sonographers can pinpoint lesions during ultrasound intervention.
When using fusion imaging, Kelekis pointed out, a challenge for clinicians lies in registering an image from one modality with another. 'The patient in the CT scan cannot be in the exact same position as with ultrasound, so the two images are mismatched. In order to do the matching, the technician/doctor tries to bring them together or the machine does that automatically. There are different algorithms that will do that registration and figure out the different densities of tissue to match those tissues together.'
A middle-ground option, and one gaining popularity, is semi-automatic registration, where a system will bring tissue together but leave doctors to do the final editing manually. 'What will be interesting to see in the future is 'elastic registration', which means the system will deform the CT or ultrasound image to get them to fit together better.'
The professor's department has collaborated with Mindray in using iFusion in clinical practice. 'It is an interesting tool and means we have a very accurate software to go in specific places and use fusion in cases where the approach was more difficult under CT. At the same time, we helped to develop the software and make it more user-friendly. The result is a better tool for doctors, a more precise approach for fusion imaging, and a more seamless logistical approach.' His team also worked with Mindray to develop a logistical structure on how to teach technicians and clinicians to move through the procedure of registering and fusing images in a faster, more efficient way, to help optimise the use of clinical time.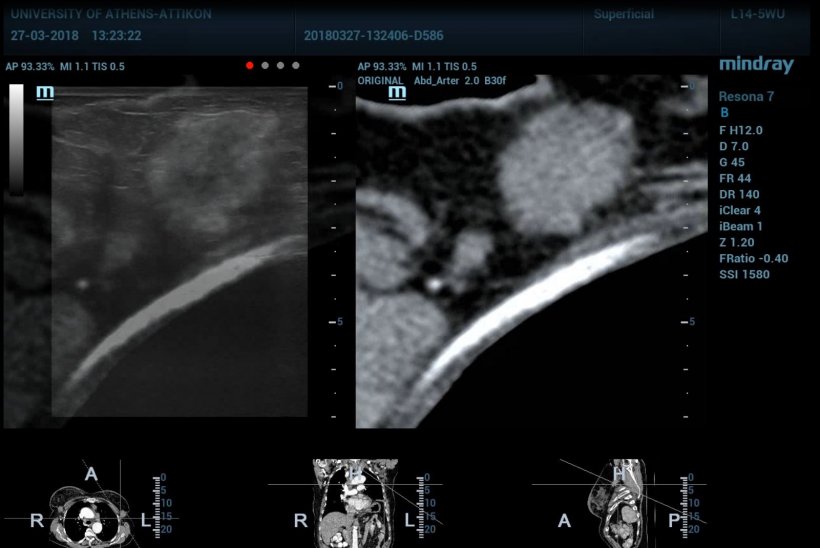 Treat a disease, not just an organ
He believes there is potential for future development in fusion imaging as computers become more powerful in handling greater volumes of data. 'At some point, we will be able to scan the whole body in CT, then in ultrasound and after that, match data volumes together to have a complete fusion of the whole body. With more computer capability in handling data information, that will increase the possibility of interpretation.' As a radiologist and imaging specialist, he explained that, for example, in liver disease diagnosis and treatment, a whole-body CT and US scan is important. 'Patients with liver lesions have bone lesions and other metastases, so we do not treat an organ, we treat a disease. All these imaging systems will allow us to get to the site we want to treat, wherever that is, in a more precise and less invasive way.'
Technology that can help us do that in a more seamless and user-friendly way to speed up the processes will be very effective

Alexis Kelekis
Using ultrasound in conjunction with CT means the radiologist can guide the focus to specific areas. 'I can match those examinations with iFusion and use previous CT scans to match the new ultrasound image, so I can marry different time sequences using information from one with information from another.'
Integrating such large amounts of data with PACS systems, he suggests, is relatively straightforward today and the system also facilitates more efficient treatment planning protocols. 'With protocol planning it's important to decide when you are going to do the exam and how you are going to register that exam,' Kelekis explained. 'We've been using specific protocols and training our technicians to do the fusion and preparation for a whole procedure so, when the doctor arrives, the whole registration process has already been completed and the physician is ready to move on directly to the interventional examination.'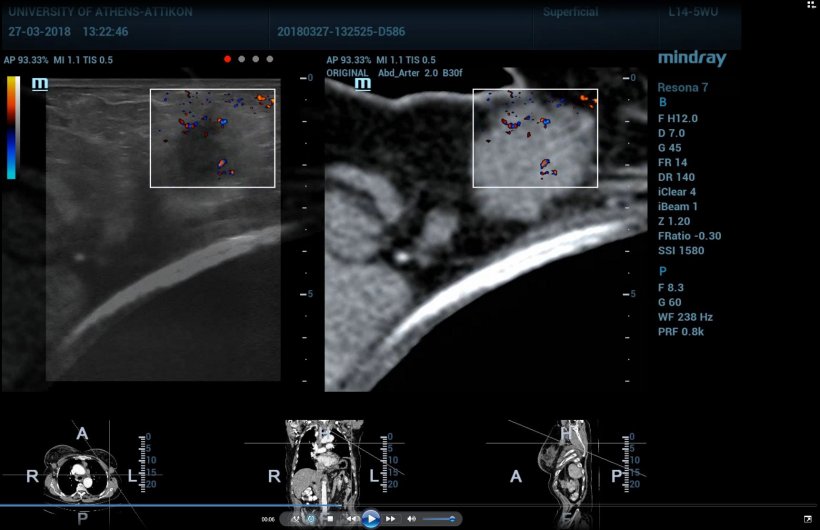 New minds are open for new ideas
While these tools offer important benefits, he acknowledges that, persuading people with different mindsets, approaches and workflows to adopt them, may be a challenge. However, he is optimistic: 'With the technological advancement we have in our everyday lives, people are becoming more flexible to change and I hope these changes will pass more easily into our medical world.'
Kelekis acknowledges the inevitability of Artificial Intelligence (AI), which he is already using in his department, such as with auto-count systems for breast lesion or lung nodule recognition for diagnostic services. He said such systems will become 'cleverer' but will not replace doctors and the role the human brain plays in diagnosis. 'In the future, as long as fusion expands, we will have more assistance,' Kelekis confirmed. 'Technology that can help us do that in a more seamless and user-friendly way to speed up the processes will be very effective.'
Profile:
Prof. Alexis Kelekis is Associate Professor of Diagnostic and Interventional Musculoskeletal Radiology at the Radiology Department II of the University of Athens. He specializes in MSK and spine imaging, for which he also gives undergraduate teaching courses at the University of Athens. Alexis Kelekis is a reviewer for several radiology- and spine-centered journals, has written a great number of scientific publications and is member of many radiological societies, including the Greek, Belgian, Swiss and North American Societies of Radiology, the Society of Interventional Radiology and Cardiovascular and Interventional Society of Europe.
More on the subject:
More on companies: