Article • Portable ultrasound demonstrates versatility in all specialties
Covid-19 – Testing time for people and devices
Due to the coronavirus, hospitals and medical staff developed new work practices involving, in acute settings, social distancing, rigid use of personal protective equipment (PPE), handwashing, and disinfection of equipment every day.
Additionally, portable, highly-mobile and versatile equipment came to the fore in point-of-care (POC) – particularly when wards and operating theatres are spread across several floors and access to specialist devices is at a premium. This proved the case in operating theatres, wards and intensive care units (ICUs) at the Utrecht University Medical Clinic (UMC) in the Netherlands, where portable ultrasound has supported swift and effective diagnosis of Covid-19 patients and supported treatment pathways.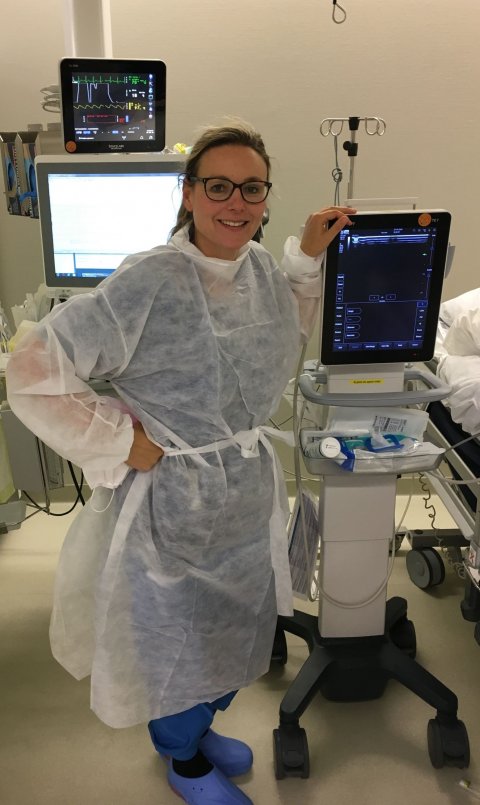 Anaesthesiologist Dr Karina de Roos-Baron, who works across the ICUs and operating theatres at UMC, said that during the second wave of the pandemic cases, and deaths remain high, with extra ICU beds opened up to cope with increasing numbers of Covid-19 patients. Here, ultrasound is playing a vital role. With wards and operating theatres spread across two floors at UMC, and not every unit having an ultrasound machine, the five highly portable and versatile Mindray TE7 machines are proving to be real workhorses.
Elective surgery has been cut by half as operating theatre staff are redeployed to care for Covid-19 patients, meaning the portable TE7 is playing an increasingly important role. 'This is a very mobile unit,' de Roos-Baron confirmed. 'It's available at point-of-care, does not need a constant energy supply and is easy to disinfect. In the operating theatre, we use it for venous and arterial canulation and, in ICU, for vascular access.'
The hospital's five Mindray TE7 systems are also being used by colleagues in, for example, neurosurgery, vascular surgery and urology. Also, with a programme starting for POCUS (point-of-care ultrasound), that role is set to expand further. The TE7 offers superior image quality, simple touchscreen operation and intelligent tools to help speed up ultrasound examinations in demanding POC environments such as critical care, emergency and anaesthetics. It features a 15-inch high-resolution anti-glare touchscreen display which is easy to use and is responsive, even with gloves and gel. It can also connect seamlessly to the hospital's electronic patient record (EPR) system.
With a wide range of pre-sets to cover all POC exams, the device has full calculation packages included as standard. Three transducers can be connected at once with easy on-screen selection; there are 23 probes available ranging from 1 to 20MHz for high-definition imaging, and the machine boots up in less than 25 seconds, or three seconds from standby.
At UMC, the TE7 is used in the recovery ward and to perform echo on patients' lungs, heart and abdomen. Also, should a patient need an emergency operation, it can be used to check whether the stomach is empty, or not. 'We use a mobile machine because we do not have enough ultrasound devices to go around the 23 theatres we have, which are also on separate floors of our hospital,' de Roos-Baron explained. Careful logging of equipment keeps track of where on site the five Mindray machines are at any time. Another advantage is that the device can last for 1-2 hours on battery, and then be plugged in or re-started promptly when needed.
This is a robust machine – particularly important in the Covid environment where constant disinfection is necessary – and it is easy and straightforward for ICU and theatre staff to cover the machines, the flat screen, and the probe with plastic protection. 'What's changed during Covid is that there is a lot more disinfection of machines,' de Roos-Baron pointed out. This is in addition to the constant use by staff of PPE and the time taken to put that on. While the theatres are working at reduced capacity, the ICU is very busy with Covid patients and, at UMC, additional ICU space has been created, with older wards reopened, re-purposed and re-equipped for coronavirus patients. Covid patients are also being treated on general wards, but can be moved to ICU if their condition deteriorates.
In a nutshell, the benefits of the Mindray TE7 have become increasingly apparent to UMC staff during the coronavirus pandemic due to their mobility, performance, flexibility and reliability. 'In the beginning, I was sceptical, but we are pleased to have them,' the UMC anaesthesiologist concluded. 'As the person in charge of them, I think this is a very good machine.'
Profile:
Anaesthesiologist Karina M M de Roos-Baron heads the regional anaesthesia working group at University Medical Centre Utrecht (UMC), the Netherlands. After completing medical school in Amsterdam, she gained experience in anaesthesiology and intensive care as a resident and fellow at the UMC and other Dutch hospitals. Keen to educate new staff, Roos-Baron is an instructor for the Acute Trauma Life Support (ATLS) training programme as well as for the Dutch Association of Regional Anaesthesia (DARA).
More on the subject:
More on companies: