Infections
Maintain perioperative normothermia
Even mild perioperative hypothermia can have significant effects on rates of surgical site infections (SSIs), morbid myocardial outcomes, blood loss and transfusion requirements, altering the response to drugs, extending recovery rates, hospital stay and patient discomfort.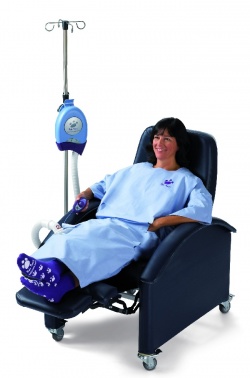 To raise awareness of this problem and the available solutions, 3M Healthcare hosted the symposium Can you afford to have hypothermic patients? during Euroanaesthesia 2012, the European Anaesthesiology Congress held in Paris this June. As explained by Professor Andrea Kurz, Cleveland Clinic, Ohio, USA, in her opening presentation, hypothermia commonly develops in patients under anaesthesia because both general and epidural anaesthetics inhibit thermoregulation.
This, and the loss of the ability to shiver due to the muscle relaxants, means that in the cool operating theatre the patient's core temperature can fall rapidly (even 1.6°C in the first hour), due to the redistribution of heat from the core to the peripheral tissues. Consequently, up to 70% of postoperative patients in the recovery room may be hypothermic i.e. core temperature <36°C. This common problem, although a contributory factor to poor outcomes, for example a threefold increase in postoperative surgical wound infections as well as lengthening hospital stay of up to 20% – is often accepted as an inevitable consequence of surgery.
Professor Daniel Sessler, Cleveland Clinic, Ohio, USA, demonstrated how keeping the patient warm, i.e. with core temperature at least 36°C throughout surgery is not hard and can have a significant positive effect on outcomes. He showed how temperature should be measured taking oesophageal, rectal or tympanic readings, which accurately record core temperature compared with measurements via axillary, nasal or oral routes that register values lower than the actual core temperature. To reduce the risk of hypothermia in surgical patients, perioperative temperature measurement should be carried out when any procedure is performed under anaesthesia or with regional anaesthesia close to the spinal marrow lasting over 30 minutes, anaesthesia in paediatric or geriatric patients, procedures with an increased heat loss, or perioperative techniques involving active warming or cooling of a patient, as well as when they are at risk from malignant hypothermia.
Dr Ratan Alexander, Birmingham, UK, continued the symposium flow by describing the creation of the first NICE guidelines in 2008, on the management of inadvertant perioperative hypothermia in adult patients (cg65).1 Although NICE is a UK institution and any economics presented are based on the NHS costs, Dr Alexander recognises the importance of these recommendations on the international stage as other European countries look to create their own guidelines.
Emerging from these guidelines are clear findings, such as the importance of patients being warm during the preoperative phase. If the core temperature is lower than 36°C an hour before surgery, NICE recommends that the procedure be postponed until the patient has regained acceptable warmth. The guidelines also provide practical advice on how to avoid hypothermia in terms of remembering to factor pre-med time into the calculation of overall anaesthesia time, increasing the ambient temperature of the operating theatre, warming fluids if transfusing more than 500 mls and ensuring that the patient does not move to the ward postoperatively until their temperature is at least 36°C. The NICE recommendation shows that the use of forced-air warming (FAW) is cost effective compared with usual care. Sarah Davis, Sheffield, UK, described how the calculation of QALYs is used to reach this finding. Convective or forced-air warming is the application of heated air over a patient's body using sheets, under body blankets or heating devices developed for this purpose. Optimum heat distribution and the efficacy of forced-air warming systems is ensured by the use of warming blankets designed to adapt to different surgical procedures and creating a complete patient warming experience, such as that provided by the 3M Bair Hugger Warming System, the manufacturer points out. 'The Bair Hugger Warming System was the world's first forced-air warming system introduced in 1987 and over the past 25 years 3M has contributed to patient perioperative safety by continued innovation and improvements. Forced-air warming is considered as the gold standard for patient warming in 17 European countries and is used in 80% of cases where active warming is considered necessary.'
3M's latest innovation is the Bair Paws Flex warming gown. Wearing this, the patient can control several warming solutions and thus it covers virtually the full range of perioperative requirements for body warming. Experts have unanimously endorsed forced-air warming as a safe and easy way to reduce inadvertent hypothermia in almost every surgical patient, whether paediatric or adult. However, they felt that in Europe and even in the UK where guidelines exist, greater auditing of the use of forcedair warming is needed to ensure compliance with maintaining normothermia in surgical patients and greater awareness in patients and medics as part of a drive to reduce infection rates and improve surgical productivity, as is the case in the USA, where Medicare reimbursement is reduced by 2% in hospitals do not comply with best practice guidelines.
Details: http://www.nice.org.uk/nice media/ live/11962/40432/40432.pdf