Sponsored • Workflow automation
Loop-X: Imaging robot for spinal surgery
Brainlab recently unveiled its flagship Loop-X mobile intraoperative imaging robot that is specifically designed for spinal surgical procedures. Developed by medPhoton, an Austrian company, the device is now the core of Brainlab's imaging offerings.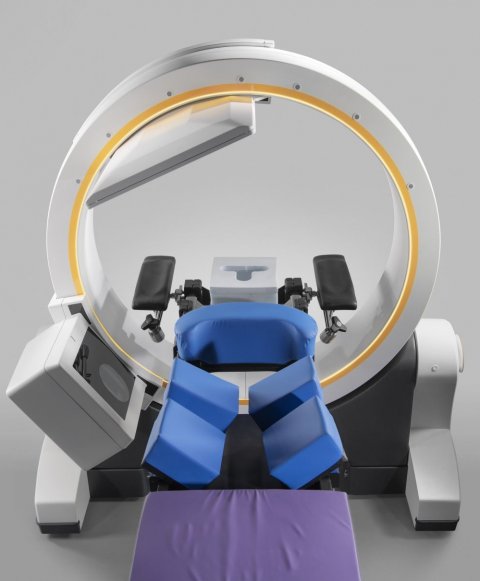 The Loop-X robotic architecture introduces a new standard in flexibility, adding additional degrees of freedom to any surgical procedure: By automating imaging workflow steps and robotically moving with the procedure and on command, the system is in sync with other devices like robotic arms and with the surgeon and staff.
One interesting feature of the Loop-X is the non-isocentric movement of the X-ray source and detector. Unlike in other CT imagers, the two are not always directly across from each other, and the X-ray beam turns to always point toward the detector. This allows the device to better target the specific anatomy of interest while minimizing the delivered radiation dose. Additionally, the capability can be used to better view anatomy at a larger scale by widely sweeping the beam closer to the outer edge of the scanner.
The highly integrated device is designed for 2D and 3D imaging, combining ultra-high resolution with extra-low doses, and proprietary technology to image with interlaced energies for soft-tissue visualization.
Loop-X imaging robot can be integrated with Brainlab technology as well as third party products through an open interface, maximizing interoperability and data integration. "For Brainlab, Loop-X is a critical milestone in contributing disruptive innovations in spinal surgery," said Stefan Vilsmeier, President and Chief Executive Officer, Brainlab. "It provides us with an even stronger foundation for leveraging emerging technologies such as AI, big data, cloud computing, augmented reality and spatial computing."