LEAN workflow analysis
This year's EuroMedLab and IFCC-EFLM Congress came at a time when all hospitals face ever-increasing healthcare costs, aging populations and patients and GPs demanding more complex and novel diagnostic tests.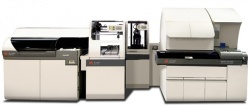 Hospital laboratories play a critical role in more than 70% of diagnostic decisions and productivity must to rise in line with workloads, with results improved despite the same or reduced staff levels.
The high throughput solution
Meeting customers at EuroMedLab for the first time in his new role as President of Beckman Coulter Diagnostics, Arnd Kaldowski said: 'When it comes to maximising the hospital laboratory's operations, choosing the right long-term solution, and the right trusted partner, is financially critical. Throughout seventy-five years, Beckman Coulter has singularly dedicated itself to the clinical diagnostic laboratory. Our commitment to customers has been to deliver innovative lab solutions to improve the overall return on investment in both diagnostics and disease management.'
Pointing out the growing trend to look for innovative ways to improve service delivery, he added: 'The concept of a LEAN workflow analysis has now become standard practice for a modern lab as part of a fundamental review of its workflow practices. The outcome of these workflow reviews has been to focus on partners who can provide high throughput systems with a consistent turnaround time (TAT) that can also offer standardisation of technology and reagents as well as results.'
The LEAN approach has also driven a move towards the consolidation of IVD laboratories, using an expanded workflow concept of a 'hub and spoke' model. This is becoming the template, in various manifestations, for hospital lab services throughout Europe, with a central core lab aligned to numerous regional or satellite locations.
For a successful partnership Arnd Kaldowski suggested customers demand standardisation of reference ranges and results, whether tests are performed in the core lab or regionally; maximum instrument uptime and availability; scalability to meet increasing workloads; reduction in time-wasting, manual steps; delivery of an improved and consistent turnaround time (TAT); on-going training and staff support.
The firm is recognised worldwide for its range of automated testing platforms, offering a flexible, scalable solution whatever the lab size. New automation solutions featured this year, e.g. the Power Link (a streamlined, integrated solution to link sample processing for immunodiagnostics and chemistry from a single sample entry point), further improve workflow by decreasing the reporting time of both routine and life-critical results back to clinicians.
For haematology customers, a critical step in the sample review process is being able to identify abnormal cells as quickly as possible, the company points out.
To ensure accuracy and the earliest possible diagnosis, an automated solution has first to deliver high levels of sensitivity and specificity when flagging abnormal or atypical cells. To meet this need, Beckman Coulter launched the new, small footprint UniCel DxH 600 Coulter Cellular Analysis System, a compact, bench-top for mid- to high-volume labs.
More on the subject:
More on companies: