Korean ultrasound firm wins leadership award
Medison, the Korean-based manufacturer of diagnostic ultrasound systems founded in 1985 and pioneer of the first commercial real-time 3-D ultrasound scanner, recently received the 2007 Frost & Sullivan Competitive Strategy Leadership Award.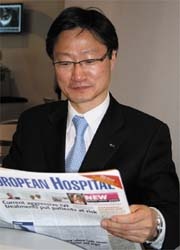 The company's range of ultrasound products includes everything from portable to digital 3-D and 4-D systems. The F&S award was given in recognition of Medison's strategic initiatives to establish itself as a leading enterprise in the European ultrasound market.
Karthik Arun B, head analyst at F&S commented that Medison accomplished high growth in Europe – the world's biggest and most advanced market – by aggressive strategies and customer-oriented management and, she noted: 'It especially showed great accomplishment in the high-end 3-D ultrasound system.' Indeed, in 2006, Medison's market share was almost 40% in the high-end 3-D and 4-D ultrasound segment in Europe.
Medison's CEO Jae-Bum Choi said: 'We'll build on this foundation to globalise the company by creating a system of local headquarters.' 85% of Medison's sales are derived from exports. Employing just 430 people in R&D, sales and marketing, the firm also maintains 10 overseas subsidiaries and 100 agencies in 90 countries. It plans to open local headquarters gradually by 2010. Initially, last year, Medison set up European headquarters in the Netherlands.
Other awards – Medison also won the F&S Product Differentiation & Innovation Award in 2001 and, in 2004 was rated as The Highest Growth Rate Enterprise by the Klein Report, which focuses on ultrasound systems – the firm had recorded 94% in sales growth in the USA.
During the recent 23rd Korean International Medical & Hospital Equipment Show – KIMES 2007 – a 4-day event that is one of Asia's biggest medical products exhibitions, Joong-Ho Lee, Senior Managing Director in the Marketing Division of Medison, told Denise Hennig of European Hospital that ultrasound has a strong future. 'We are developing another new technology for ultrasound and we expect synergies between our existing technology and the new one. We're also testing and examining the efficiency of the 4-D and 3-D ultrasound. One very specific thing – and the differentiating factor of 3-D and 4-D technology – is that we not only want to take good images of a baby's face, ideally we want to combine our technology to improve diagnoses and to combine diagnosis with therapy if necessary, for example, developing our 3-D and 4-D technology for specialised cardiography.
'Our aim is to develop our ultrasound products, but we'd also like to spend time in the diagnostics area – obstetrics and gynaecology, cardiology and radiology. A good future perspective is Medison leading the ultrasound market in conjunction with different faculties in the medical field – not just showing nice baby faces. We'd like to make human beings live healthier lives.'
www.medison.com