Kalare X-ray system features increase productivity
Demonstrating a commitment to efficiency in diagnostic imaging, Toshiba America Medical Systems, Inc. featured the Kalare™ R&F system at this year's Radiological Society of North America (RSNA).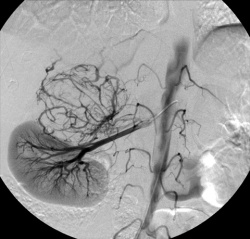 The Kalare R&F system combines a superior user interface and feature set with true all-digital imaging for fluoroscopic and radiographic examinations. With its high-resolution, removable, flat panel detector, all digital images can be captured and displayed instantly on dedicated digital workstations.
"Toshiba's Kalare accommodates a variety of patients and exam types, helping meet the growing demands of today's hospitals," explained Robert Micer, director, X-ray Vascular Business Unit, Toshiba. "The removable, integrated DR panel dramatically improves patient care, increases overall workflow and eliminates the need for conventional film."
In today's healthcare environment, maximizing imaging resources and improving patient throughput is critical to success. Toshiba's Kalare X-ray system helps medical centers accomplish these goals while lowering costs and improving patient care. The system is also specifically designed to accommodate the needs of busy facilities, like Nacogdoches Memorial Hospital in Texas, a Level III Trauma Center which uses two Kalare systems.
"The versatility of Toshiba's Kalare R&F system coupled with its high-quality images resulted in immediate improvements in patient care, increased overall workflow and eliminated the need for conventional film," stated Freddie Gibson, director, Medical Imaging Services, Nacogdoches Memorial Hospital.
In addition, the system allows clinicians flexibility to obtain images from virtually any position without moving the patient for improved comfort and faster exams. This makes it ideal for imaging ambulatory, wheelchair and stretcher patients. This flexibility also dramatically increases room utilization and overall operational efficiency.
"The Kalare has saved my department time by helping us complete most of our studies twice as fast as we used to," said Gibson. "The Kalare is extremely user-friendly, making it comfortable for technologists to perform multiple exams a day with little fatigue. Some exams, which used to require two technologists, can now be performed by one. The chief technologist now has more time to oversee the entire department and work one-on-one with staff."
More on the subject:
More on companies: