News • Taiwan Excellence Shed Lights on Innovative Medical Solutions
Join us for the Smart Medical Webinar August 19th, 2020 10:00 a.m.
Over the past decade, medicine and technology have needed to join hands to help change people's lives. Today, the healthcare and medical industry has become a huge business worth more than US$158 billion in applications of medical IOT.
Driven by both the pandemic and the 5G trend, Taiwan's dynamic medical industry has shown its innovative power in smart medical technologies, surgery and medical devices. Taiwan excels in a number of medical specialties and ranks among the top performers in Asia in areas such as telehealth technologies, the use of ECMO, laparoscopic surgery, endoscopic surgery, and robotic surgery.
The event will be showcasing some of the best surgical solutions from four Taiwan Excellence Awards winning brands, all of them specialized in different areas of surgery and medical equipment. The webinar will cover surgical table and lights, 2D to 3D endoscopic systems, surgical and PPE textiles, and surgical suction devices. Follow us as these presenters share their insights in medical device R&D and medical technology.
Recommended article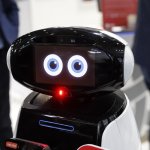 Article • TAITRA at Medica 2019
A popular proverb in Mandarin goes 'Hearing something a hundred times is not as good as seeing it once' (百聞不如一見). Visiting the Taiwan pavilion at this year's Medica, it's clear to see that the Bureau of Foreign Trade (MOEA) from Taiwan, together with the Taiwan External Trade Development Council (TAITRA) and its foster companies, have taken this sentiment to heart.