It's not a done deal yet, says expert, but it's absolutely where we are heading!
Personalised cancer medicine is much discussed, with high expectations for biomolecular decoding of various tumours and the global pharma industry developing targeted drugs to attack tumours at a biomolecular level.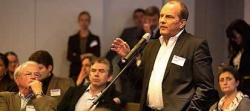 However, during EFO 2012, Alexander Eggermont, Professor of Surgical Oncology at Erasmus University, The Netherlands and General Director of the renowned Institut de cancérologie Gustave Roussy (France) warned that personalised cancer medicine its 'not a done deal yet' - nor will it be in the near future. Bettina Döbereiner asked this pathophysiology and immunotherapy research specialist what makes him sceptical.
'Personalised cancer medicine is still in its infancy,' Prof. Eggermont pointed out. 'By now we indeed have some targeted drugs to treat certain tumours, for example the agent Trastuzumab (trade name Herceptin) to treat breast cancer. This drug is very successful – if it's a HER2 positive tumour. It's important to understand that, for the same reason, the drug is also effective in HER2 positive gastric cancer. Thus it's less important which organ is the origin of the tumour (e.g. breast, gastric, lung) but which molecularly defined target is present at the tumour. Most tumours have multiple derailments and are very complex and therefore personalised cancer medicine is not a simple one-target/one-drug approach, but will face many complex hurdles in its development.
'For these complex tumours we are still analysing which are the driver mutations, which are the most important ones, effecting the so-called signalling pathways – pathways that guide the cell and consequently the tumour. The knowledge of this - is of course the precondition to develop targeted drugs. A major problem is that most tumours, right from the start, have different cancer cell populations, with different molecular characteristics or profiles. We call this heterogeneity, and it's an important reason why parts of many tumours are resistant to various treatments, right from the start. Besides the heterogeneity of the primary tumour itself, we have two further parameters that increase complexity. First, the profile of a metastasis differs from the primary tumour and may also differ from other metastases – depending on the location; secondly, the tumour will acquire in time more and more mutations, because of its genetic instability; so, all in all we have three levels of heterogeneity. That is to say, personalised cancer medicine only fits in very specific conditions: you need the right drug for the right patient with a right tumour in the right time.'
What possible solutions might there be to cope with this immense diversity of tumours, metastases, or even in different parts of one tumour? Why not simply combine those particular drugs that proved effective? 'We have to take a combination of different inhibitors causing a multiple pathway blocking to get an effective response to have a chance to eradicate the tumour in the end. However, not all drugs can be combined, it could be toxic. So, the question is - Which drugs should or could be combined? So far this isn't studied very well and we're trying to find out.'
Could a combination then suffice to guarantee successful treatment? 'No, this is very unlikely. There is a growing understanding and appreciation of the fact that if we do not simultaneously engage the patient's immune system then achieving cures will be very difficult. Only killing tumour cells will not cure any patient. The activation of the immune system is indispensable to ensure a successful treatment. My colleagues Drs Kroemer and Zitvogel discovered that chemotherapeutics and other tumour cell killing drugs could create immunogenic cell death or tolerogenic cell death. With immunogenic cell death cancer cells die in a way that they present their antigenes to the immune system and thus mobilise it. So immunogenic cell death is essential for engagement of the immune system and for success. In experimental systems, we could demonstrate that all the targeted drugs fail that don't present their antigenes to the immune system. Thus the question remains of how we can optimise our immune system to cooperate with all these targeted drugs, so that we get the synergy of both systems.'
If the cost of a single targeted drug causes financial problems, how can there be a realistic prospect for a combination of multiple targeted drugs? 'True – with current drug prices we cannot pay for personalised cancer medicine. We have to change the system that will lead to reasonable/affordable pricing of new cancer drugs. The current situation is not sustainable for any society and will only increase enhanced inequality of access to new drugs. We need a new type of drug development system, first with much earlier decisions about which drug to develop and which to abandon. This includes acting against 'defensive patenting', which is a way to block the development of drugs that are in competition with your own drug, even if they have the potential to be better. 'Secondly, drugs that are of essential value, and which mechanisms of action we understand well should be able to be approved more rapidly than in the current system. For instance, a drug in the BRAF-Inhibitor Vemurafenib category, used to treat late-stage melanoma, should be approved much earlier than today. A study of ours, related to Vemurafenib, showed identical data of response within 32, 130 and 650 patients. Therefore, this kind of super early efficacy-signals in phase 1 and early phase 2 studies should be sufficient for drug approval. As a complement to that, we would need more safety-evaluations, once the drugs are in the market to evaluate if the safety data remain the same and if not, to intercept and withdraw marketing authorisation. To shorten drug development is indispensable, otherwise we'll just produce things for which we later cannot pay. 'Thirdly, we need to focus on the combination of targeted drugs with host-immune-modulators. If you only develop drugs that will give a short response and only a small impact on survival, society will never pay for that. However, if you find a way how, on top of these responses, the immune system can control it for years - then you have a model. This would render a treatment for which society would be running to pay.'
How will things stand in 2020? 'We'll have a whole number of additional drugs like Vemurafenib, and then will be held up for a while due to the increasing complexity level, and hopefully we'll understand and know more about how to activate the immune system. That's why I had to qualify personalised cancer medicine as not being "a done deal", because it's not yet, but it is absolutely where we are heading!'