Introducing the new SOMATOM Definition Flash
Flash speed. Lowest dose.
Siemens' latest high-end scanner, which takes our unmatched Dual Source technology to a whole new level, is the SOMATOM Definition Flash — a scanner that will change your perceptions of radiation dose.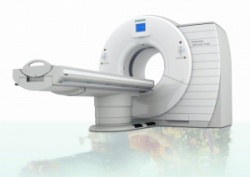 The new SOMATOM Definition Flash was designed specially to make CT exams much healthier for your patients.
Its core innovation – the revolutionary Flash Spiral – can be summarized in 4 words: Flash speed. Lowest dose.

Split-second thorax
Scanning the thorax incl. the heart needs 0.6 s, taking the burden of breath-holding off the patient and allowing functional imaging for body regions up to 48 cm.
Sub-mSv heart
Temporal resolution of 75 ms and scan speed of up to 43 cm/s make heart-scanning without beta-blockers possible and for the first time breath-hold optional with dose levels below 1 mSv.
Single dose Dual Energy
With the Selective Photon Shield Dual Energy scans are now dose neutral. Together with dramatically increased energy separation and a wide range of FDA-cleared applications, it's now perfect for routine clinical use.
Organ-sensitive dose protection
The SOMATOM Definition Flash prevents clinically irrelevant dose for spiral examinations and introduces for the first time organ-sensitive dose protection.
Learn more about the SOMATOM Definition Flash:
www.siemens.com/somatom-definition-flash

More on the subject:
More on companies: