Increased automation speeds up results
Siemens platform provides tracking, biochemistry, haematology, serology and coagulation services in a single automated laboratory solution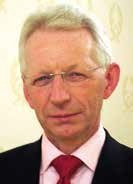 As automation eases the logistics of laboratory operation, new systems enable clinical laboratory scientists to provide clinicians with a quicker and more robust results service. Dr Bill Bartlett, Joint Clinical Director of Diagnostics at NHS Tayside, Scotland, believes automation will also enable lab staff to better educate clinicians to 'ask the right questions' to enable the correct choice of tests 'at the point of care', in turn leading to more focused results and potentially improve patient outcomes.
NHS Tayside is deploying the Siemens Aptio Automation, a platform that will see the introduction of stateof- the-art tracking, biochemistry, haematology, serology and coagulation services on to a single automated laboratory solution. It sees a shift away from the conventional departmental approach and separate analytical lines towards an integrated service, further facilitated by the formation of a Department of Blood Sciences headed by Dr Bartlett. 'This,' he said, 'will provide us with opportunities to deliver new ways of working, new ways of applying knowledge and skills and a new way of managing the delivery of the service.'
The department provides laboratory services for a population of about 475,000 people in Tayside and North Fife and includes routine blood science and biochemical investigation ranging from U and E (urea and electrolytes) and liver function tests to tumour markers, therapeutic drug monitoring, haematological parameters, cell counting, haematinic investigations, coagulation studies and a number of serological services, amounting to almost seven million tests annually in support of routine medical care.
'We chose Aptio Automation because it can handle increasing workloads while enabling us to use our staff better,' Dr Bartlett explained. 'We expect that the implementation of this new platform will allow us to provide a state-of-the-art service that aligns the lab function with Tayside's overall goals for organisational sustainability and improved patient outcomes. It will provide opportunities for multi-skilling, improve turnaround times, and provide a more complete range of test results to the requesting clinicians within a shorter time window.' Aptio Automation's circular track and modular design means it is adaptable to a range of lab or testing environments and also offers connectivity to Siemens' portfolio of automationready analysers, facilitating a multidisciplinary approach to testing. It also delivers comprehensive analytics via powerful, centralised IT, while having the flexibility to provide preand post-analytical capabilities.
Dr Bartlett suggested that laboratory medicine is undergoing a revolution with lab staff working closer with clinicians to 'enrich' the reports they produce to offer more impact at the point of care. With finite staff, space and financial resources available, he said advances in IT and analytical technology will help lab managers to better deal with the complexities of testing and allow staff to more effectively deliver those 'value added' elements of the service, which go beyond producing reports and extend to providing the right testing profiles, contributing to research and development, training and playing a role in translational medicine. 'Siemens, and companies like them, can take the pain out of delivering the bulk of the work,' he added, 'so we can start using our resources to focus more on these effectiveness issues.'

PROFILE
Dr Bill Bartlett is a Clinical Scientist and Joint Clinical Director of Diagnostics, NHS Tayside, based at Ninewells Hospital, Dundee, Scotland, and the authority's clinical lead for Blood Sciences. He is also honorary senior lecturer in College of Medicine, Dentistry and Nursing at the University of Dundee.

More on the subject:
More on companies: