In production: A scanner with the biggest gantry aperture and widest scan field
Following enthusiastic reactions to the Aquilion Large Bore (LB) scanner, when shown as a work in progress at last year's ECR, and with orders in hand, Toshiba has commenced production.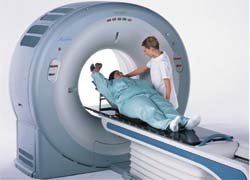 Explaining its success, the company said: 'Using technology developed for the very successful Aquilion 64 scanners, the new 16 slice Aquilion LB, multislice computed tomography (CT) scanner offers the best performance yet available in large bore CTs. It features the industry's largest gantry aperture of 90 cm and a 70 cm acquired field-of-view, covering more anatomy with greater accuracy then ever before. The 70cm scan field is 40% greater than other large bore CT systems and offers diagnostic quality without compromises. The larger field-of-view eliminates hidden anatomical areas for improved diagnosis and simulation. By virtue of Toshiba's renowned Quantum Detector technology a full 70cm field of view is accomplished, without extrapolation algorithms. This method provides superior image quality across the entire image.'
Accommodating patients of all sizes, placed in various positions, the 90cm gantry aperture combined with the long scanning range of 1.8 metres has almost no limitations, the firm points out. (Specialised radiotherapy tabletops, fitting a wide range of positioning devices, are also available). Other assets reported by the firm:
• Volumetric chest examinations can be completed easily within a single breath hold. The combination of the 32mm detector width and 0.5-second scanning allows up to 96mm to be scanned per second.
• Due to the long scanning range and high scanning speed, whole-body trauma examinations can be acquired in under 20 seconds
• This being the widest bore aperture available, new dimensions for maximum flexibility in oncology treatment planning can be set. (To address oncologists' needs, Toshiba Medical Systems Europe worked with the firms CMS, for CT radiation simulation, and A2J, which specialises in laser positioning devices).
Within the 16-slice Aquilion LB the detector technology (ranging from 4 to 256 channels) is the same as Toshiba's established Aquilion series, and provides '...the thinnest, and most accurate 0.5mm slice widths in the market,' Toshiba points out, adding: 'The Quantum detector of the Aquilion LB is the only detector to provide three different slice-width acquisitions, enabling the acquisition of isotropic images in all anatomical planes, using the lowest dose.'
The firm also reports that image quality is superb due to a high-contrast resolution of only 0.35mm in x, y, and z directions, and a low contrast resolution that can depict objects as small as 2mm, with contrast differences of only 3HU.
'The quantum de-noising software lets users balance the trade-off between dose level and image quality,' Toshiba adds. 'Standard doses either can be kept to improve image quality, or doses can be lowered - by as much as 50% - to retain image quality.

Isotropic data to aid clinical studies
The firm has developed isotropic imaging based on the standards of 0.5mm slices for the head and 1mm slices for the abdomen - a level of scanning that could aid studies of cerebral circulation, lungs, spine, joints and extremities. 'Isotropic data sets also markedly improve the quality of MPR and 3-D reconstructions, which help radiologists not only to diagnose, but also to manage the huge amount of data generated by multi-slice scanners,' Toshiba explains, adding that the CT technology provides true isotropic voxels, which greatly enhance most clinical studies, including examinations of lungs, joints, extremities and CT angiography.'
For advanced image reconstruction the new large bore scanner includes TCOT, a true cone-beam technology that uses a Feldkamp helical reconstruction technique. Thus, Toshiba explains, artifacts related to cone angle are minimised and accuracy across the entire field of view is increased.
More on the subject:
More on companies: