HES: class of drugs threatened with withdrawal of approval
Expert group to meet 7 – 9 October for a final recommendation to EMA
Infusion solutions on the basis of HES (hydroxyethyl starch) are blood volume substitutes. They replace missing blood volume in patients with high blood loss, they stabilize the blood circulation and restore oxygen and nutrient supply to organs.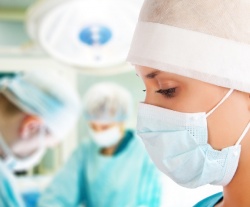 In Germany alone, according to health analysts from IMS Health 220,000 units are administered, each month, with each patient receiving between one and two doses. If no blood volume substitutes are administered, there is a risk of a state of shock and circulatory failure.
For more than 40 years, HES products have been used in clinical routine. Recently, however, the "Pharmacovigilance Risk Assessment Committee" (PRAC) of the European Medicines Agency (EMA) issued the recommendation to withdraw approval for the entire class of drugs for all applications – based on results from trials which had not been aimed at analyzing these products and which only concern risk groups.
HES is based on plant material obtained, among others, from maize (corn). HES products have already been in use for decades and play an important role in the daily clinical routine, e.g. in intensive care units, emergency medicine, and surgery. Recently published studies, however, come to the conclusion that HES products have no significant advantages over other blood volume substitutes. The acclaimed Australian CHEST study showed that patients with blood poisoning (sepsis) even show an increased risk of kidney damage – with the result of a higher number of dialysis treatments and an increased mortality rate in those patients who receive HES. Several regulatory authorities, including the European Medicines Agency (EMA), are therefore considering a general withdrawal of the approval for the entire drug class, and for all the fields of its deployment. A second meeting of experts, called by PRAC, will be evaluating the issue between October 7 and 9, and will then communicate their final recommendation to EMA. – As a precautionary measure, manufacturer Fresenius Kabi has informed all doctors and hospitals utilizing HES to no longer use HES in ICU patients suffering from sepsis.
Differentiated debate in medical societies – negative data only for sepsis patients
Some general audience media have meanwhile painted a picture of HES as a life-threatening drug; headlines include "Death from the drip" and "Deadly anaesthetic drip yet to be banned". In the medical community, however, the debate has been more differentiated. Many experts fear that the EMA may hastily ban all HES products. The recently published negative data in fact solely refers to sepsis patients in intensive care. In emergency medicine or the O.R. no evidence against HES has hitherto emerged; on the contrary, studies show a favourable risk-benefit profile for HES
Medical societies disapprove of general withdrawal of approval
From the perspective of many doctors, an outright ban of HES would deprive them of a therapeutic option essential for these patients' lives. The German Society of Anaesthesiology and Intensive Care Medicine (DGAI), for instance, calls for the preservation of the "freedom of treatment for non-septic patients". Medical professional societies in Austria or France have reached similar conclusions. They demand that HES should not be taken off the market as a general measure – instead, only the use for sepsis patients in intensive-care units should be stopped.
Questionable administration practices in trials with negative results
There are also doubts about the quality of some major studies on which the EMA may base its decision. In the Danish 6S-HES study, for instance, the substance was administered in much higher doses than usual in practical applications. HES is typically used to swiftly compensate for major blood loss and to stabilize the patient. Subsequently, standard solutions are used. In the 6S study, the therapy was continued with HES. In the CHEST study, more patients from the HES group were treated with renal replacement therapy although their kidney data was even better than in the control group. There is more criticism of the fact that the authors, despite repeated requests, have hitherto failed to publish the crude data for their analysis and evaluation, needed to allow for an independent review.
HES critics in turn argue that there has been no evidence-based proof for the advantages of HES. At the time when HES was approved, no comprehensive studies were required or commonly performed. In contrast, however, many physicians point out that there have been many decades of positive experience with HES in clinical practice. Fresenius Kabi, a leading producer of HES products, has nevertheless already announced plans to carry out a controlled randomized trial targeted at HES's risk-benefit profile.
A vote in favour of patients
Many physicians in the practices and hospitals now fear that the EMA will take an all-inclusive decision on the future of HES, based solely on a few – and what's more: on controversial – studies regarding a single area of HES use. Other, contradicting studies, as well as studies and positive practical experience with HES in other fields of application have been excluded – a rash violation of therapeutic freedom of the treating physician and a risk for patients, who depend on HES's advantageous properties, for instance, in emergencies or for surgical interventions.