Sponsored • Digitalization
Healthcare: confidence in cloud computing grows
Consider the diagnostic and therapeutic possibilities resulting from access to pertinent data from thousands of anonymized patient medical scans. What new patterns, options, or evidence for actionable insights could be derived from all this information?
Cloud-based data is easily accessible via computer, smartphone, or tablet and is a valuable complement to the insights from the millions of articles published in medical journals each year. Such an environment is possible when digital innovation is made available and the healthcare team embraces the cloud.
"The purpose of a well-functioning healthcare system is to provide excellent care to its patients at the lowest cost possible. This is what value-based healthcare is all about," says Johan Sjöberg*, a medical physicist at Karolinska University Hospital in Stockholm, Sweden.
Unfortunately, many healthcare providers aren't entirely there yet. "In healthcare we are dragging our tails [with cloud computing]. We're a couple of decades behind the rest of society," says Sjöberg. This is at a time when more healthcare has to be provided to more people using less resources.
Source: HIMSS Survey: Healthcare Warming Up to the Cloud, ClearData.com (2014) https://www.cleardata.com/blog/himss-survey-healthcare-warming-up-to-the-cloud/
"What is a cloud? It's just somebody else's computer, right? There's nothing magical about it," Johan Sjöberg suggests. "But there are a lot of benefits that are attributed to the concept of a cloud service. "You have a central repository. It's simple to build interfaces between the different layers in the databases. That offers the opportunity to roam the data and actually pull some interesting information from those databases, which is valuable to our patients. It's a shared platform. It offers a lot of opportunities, not just for data management, but also for communication management."
The cloud offers a good opportunity to easily add on or migrate to new applications; it enables you to easily evolve

Thomas Friese
Sjöberg notes that the amount of data generated in healthcare today is "quadrupling every second year", yet the challenge lies in figuring out if there's anything interesting in that health data.
What the cloud environment does is break down the silo walls and enables a more holistic view on patient care, according to Thomas Friese, Head of Digital Platform for Siemens Healthineers. He notes that many leading-edge cloud solutions are forward looking in terms of the applications and benefits they can offer a healthcare enterprise. "The cloud offers a good opportunity to easily add on or migrate to new applications; it enables you to easily evolve."
Recommended article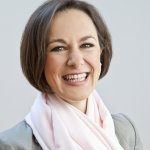 Article • Innovation
The new 1.5 Tesla MRI from Siemens Healthineers, Magnetom Sola, is packed with helpful algorithms and other functions. AI-supported systems monitor patients and scan parameters and ensure consistent image quality. Whilst visitors at this year's ECR-Expo admired the new device, Prof. Ulrike Attenberger has already tested it in practice.
Continuously improving care
Cloud computing allows healthcare enterprises to utilize the latest technology at a fraction of the cost and deployment time of a local installation. For example, providers of cloud-based AI applications are highly scalable and can use a practically unlimited number of Graphical Processing Units (GPUs). A cloud environment seamlessly unites healthcare professionals in a large-scale team effort, making the knowledge and insights of individual professionals available across a global network. Big data becomes readily available, accessible, and easy to analyze as data sets located anywhere in the world are available to improve diagnostic capabilities, provide integrated decision support, and help physicians get a comprehensive view of a patient's condition. Individualized treatment plans can increasingly be developed from valuable quantitative data. Enterprise-wide artificial intelligence-based assistants can serve as a clinical decision support mechanism (CDSM) for referring physicians ordering imaging tests.
Source: HIMSS Survey: Healthcare Warming Up to the Cloud, ClearData.com (2014) https://www.cleardata.com/blog/himss-survey-healthcare-warming-up-to-the-cloud/
Specific applications combining imaging and analysis are yielding promising benefits. For example, treatment planning for coronary artery disease patients can be improved through the use of quantitative data aggregated via the cloud, thus providing actionable information that helps physicians determine each patient's optimal course of treatment.
We're moving into a domain where modalities and x-ray equipment and scanners are considered not as single machines, but more of an IT device in a large network … an internet of things

Johan Sjöberg
Friese points to situations in hospital trauma wards, where time is critical. An assessment for a stroke patient can be expedited with a centralized application and analysis capability as well as global access to medical experts.
Sjöberg says, "We're moving into the big data domain. To work and orient yourself in big data, you need help from technology and AI to find underlying trends and patterns. We're talking gigabytes and petabytes of data from many, many different and complex technological systems. We're moving into a domain where modalities and x-ray equipment and scanners are considered not as single machines, but more of an IT device in a large network … an internet of things."
Managing the cost of care
Healthcare expenditures in the US comprise 25% of the GDP according to the Centers for Medicare & Medicaid Services and take up 12% in many European countries (Eurostat 2015) – staggering numbers that represent a clare call for efficiency by healthcare providers. For their bottom line, being financially adept will lead to improved cashflow. For healthcare provider IT departments, financial considerations traditionally focused on the cost of so-called "digital estates", which are mostly fixed costs. In a cloud environment, a "pay-as-you-go" model allows for demand-oriented spending, which allows a healthcare enterprise to scale up or down at a predictable, manageable cost.
Peter Shen, business manager for Siemens Healthineers in the United States, says "We're seeing a trend or focus that embraces subscription models or pay-as-you-go types of models, which help you predict and budget your potential costs for a particular solution going forward. [Healthcare enterprises] know when they budget on a year-to-year basis for their departments, the cost for that solution remains static. It's something that becomes predictable going forward."
Regulatory compliance
For any healthcare enterprise, compliance means more than just adhering to the law and internal company regulations; the operational regulatory-related considerations for a cloud environment include identifying who is accessing the data; setting the security protocols for the cloud environment so they meet the established protocols for the healthcare institution; understanding if there is a means to create greater efficiency with staff and workflows; establishing benchmarks to confirm and codify the possible applications of data in the cloud; and creating a plan to make use of that continuously growing trove of data.
Accessing enterprise-wide statistics on equipment usage and lab operations from any location and with any view requires a system-wide solution. This helps healthcare professionals identify areas needing improvement or areas where success could be replicated elsewhere within the enterprise. A robust cloud environment provides consistent metrics for conducting analyses and identifying best practices that ultimately lead to a high quality of care.
Data safety and privacy
The European General Data Protection Regulation (GDPR) affects healthcare providers on both sides of the Atlantic, with new requirements for understanding and agreement of data use and privacy are driving the industry's appetite for a digital solution.
Friese also notes that designers of cloud solutions have privacy benchmarks such as GDPR ingrained into their thinking, while there is a concern about what type of data is actually stored in the cloud and that "de-identifying" the information is a priority. Privacy issues are compounded with the pervasive use of mobile devices. Consistent data security is now a paramount concern on the IT "to-do" list with good healthcare cloud solutions providing options for different levels of security and data protection.
The mindset for privacy is changing among patients, too. Nearly 40 million adults in the United States are wearing personal data devices, creating a mindset of sharing data over a network. Everything people are accustomed to in their private life is going to take over in the healthcare space. For instance, ownership of things becomes less important as usage rights can be purchased only when needed. This change is largely based on the availability of cloud services.
For more informations on Digital Health Solutions from Siemens Healthineers, please click here.
---
All trademarked Siemens Healthineers names and all associated marks are trademarks of Siemens Healthcare Diagnostics Inc. or its affiliates. All other trademarks and brands are the property of their respective owners.
Product availability may vary from country to country and is subject to varying regulatory requirements. Please contact your local representative for availability.
* Medical Physicist Johan Sjöberg (Medical Physicist) is employed by an institution engaged in contractual collaboration with Siemens Healthineers.
More on the subject:More on companies: