Health telematics
Changing horizons for therapies, medial professionals and patients.By Anja Behringer
Telematics appears to offer solutions for certain complex therapies - and for issues that will become central as populations further swell with age.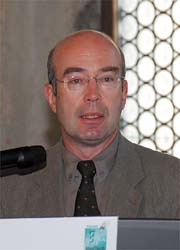 The different constellations of actors in this nexus of telecommunications, IT and medicine are physician/patient, patient/private care organisation and the triad hospital/care/rehabilitation with family physician and patient.
At the recent Telemedicine in Cardiology Symposium in Regensberg, Germany – organised by Forum MedTech Pharma e.V., a member of the network 'Bayern innovativ' network, and chaired by Professor Michael Nerlich, those stakeholders discussed the present and future of health telematics and presented their visions, current prototypes and pilot projects. Some concepts were either similar or followed a common approach, albeit with different equipment, particularly for chronic conditions such as coronary heart disease (CHD), diabetes and lung diseases.
All systems shared a common objective: cost reductions while optimising quality and patient benefit. For example, Siemens Medical Solutions estimates that the electronic patient record (EPR) will reduce time-consuming and expensive processes from 25% today to 10% in the future. Moreover, close co-operation between hospitals and GP surgeries may reduce average waiting time from 35 minutes to ten minutes. However, that potential improvement requires substantial up-front investments in IT infrastructure and equipment. Thus the Siemens solution is modular and can communicate with different hospital information systems (HIS).
Certain legal aspects need resolving, such as the prohibition of remote treatment, and documentation requirements plus privacy issues. The patient rights acts raise crucial questions regarding liability.

The aged need electronic assistance
The consultancy firm Frost & Sullivan has forecast a ?300 billion telemedicine market. In view of demographic changes it is no surprise that everyone in industry, healthcare, politics, professional associations and research institutes are interested in this development. Recent modifications in healthcare systems have upgraded the out-patient sector. Different approaches are applied to ensure medical safety in this sector. Home monitoring patients with chronic diseases is one option that is already established for CHD. However, post-surgery and post-discharge home monitoring is also gaining importance.
Home monitoring does raise a number of important questions – for example, regarding mortality reduction, therapy costs and length of treatments. To find answers to all these question, the Berlin Charité, in partnership with an industrial concern and two health insurers, founded the 'Partnership for the Heart' telemedicine project.
Moreover, five Fraunhofer Institutes developed a telemonitoring system for cardiovascular diseases. When designing the services and the organisation, the developers had to answer some very basic but crucial questions: Who will offer the services - hospitals, general practitioners, out-patient services, emergency centres or medical call centres? How should services be structured and processes designed?
The USA and northern European countries have already gathered extensive experience with home monitoring, and found out, for example, that home visits were significantly reduced and patients also felt safer. More patients were cared for than by traditional in-patient services and the geographical presence was expanded.
Telemedical solutions support independence and competency of patients and turn them into a co-provider of medical services. The patients' acceptance must be complemented by concrete benefits for the medical staff.

New professions in telemedical nursing
Dr Barbara Klein, of the Fraunhofer-Institut für Arbeitswirtschaft und Organisation, in Stuttgart, pointed out that in 1999 one nurse cared for nine patients; in 2015 the number will have increased to 17 patients. Special job profiles and qualifications for the new telemedical professions are needed and indeed a curriculum for a 'telemetric-medical data manager' is currently being designed. This new profession will serve as an interface with filter function between physician and patient. The job profile not only consist of technology-oriented tasks, e.g. recording a patient's technical and medical status, but also interpersonal tasks such as alleviating a patient's fear of technology and gaining his/her cooperation, as well as offering counselling, advise and help. The project aims to establish new options for diagnostics and therapy and prepare staff for these new tasks.
Cardiology is one area where these new professionals will be needed. The transfer of biometric data or remote call-up of diagnostic information from medical centres are just two likely tasks. Health telematics will ensure patient care in remote rural areas via a central hospital, or home care of chronically ill patients.
A further project of the Fraunhofer innovation clusters 'Personal Health' is developing a job profile for a 'Community Medical Nurse', to support a family doctor (GP). This nurse could tend a patient at home and, if necessary, communicate with the GP via computer video or audio connection.
Ideas and projects abound – financing is not so easy. Additionally, lack of reimbursement structures and legal issues still slow down the implementation of electronic services. All players in the healthcare system expect the introduction of the EPR to immensely boost innovation.