Generation Y in hospitals today
Could the widely predicted shortage of qualified staff in German hospitals soon lead to tough competition for members of Generation Y, ultimately resulting in a change in hospital structures and a revolution in the country's total healthcare system? Perhaps. EH spoke with Professor Christian Schmidt, Medical Director and Head of the Board at Rostock University Hospital, and with consultant surgeon Professor Henne-Bruns.
Report: Bettina Döbereiner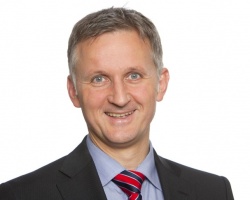 'In the future the hospital market will be strongly affected by competition for qualified staff,' predicts Dr Christian Schmidt, referring to Germany's demographic change, which he believes will soon lead to a massive shortage of qualified staff. This belief – and his personal experiences of dealing with the young doctors of generation Y (born after 1981) prompted Dr Schmidt and colleagues to scientifically examine what they have noticed about that generation. 'We wanted to obtain, as much as possible, empirically sound evidence about this new generation of doctors, so that we can gear our management culture and Personnel Development Programmes specifically towards this generation.'
Work commenced in 2011 (Der Anaesthetist, 60:517-524) by way of a comprehensive literature research on the internet. The bottom line of the evaluation: Members of Gen Y 'live while they work' – unlike the post-war generation (baby boomers), for instance, who 'live to work', but also unlike the members of Gen X, who 'work to live'.
According to this meta-evaluation, members of Gen Y place much importance on sticking to agreed working hours (ideally nine to five), refuse to work unpaid overtime and would consider working part-time for certain periods to achieve a better balance between job and family life. This could obviously lead to potential conflict for work in the hospital, a place where unpaid overtime is not a rarity and long shifts of work are the order of the day. Apart from their literature research and evaluation, Dr Schmidt and colleagues also conducted numerous surveys of their own. The largest and most important to date was published in the specialist magazine HNO (HNO 2012, 60:993-1002). Asked about their choice of future employer, young medical students said that a good working atmosphere was the most important aspect for them. In second and third place came a good training structure and breadth of training and in fourth place was a family-friendly employment policy.
Looking at these results, Dr Schmidt said, 'Attracting members of Generation Y to our hospital means creating lifestyle-adapted career paths for them.' He has very recently – having only been in Rostock for the last six months – helped to introduce a target agreement for consultants, which, among other points, calls for feedback and development dialogue with employees. When it comes to being family friendly, Schmidt pointed out, Rostock University Hospital is already set up very well. 'Ultimately,' he added, 'I'd like to strategically embed a management style that fits in with the new generation in our organisational culture – but this will take time.' Unlike Schmidt, Dr Doris Henne-Bruns, at Ulm University Hospital, believes the issue of the generation gap to be irrelevant in her daily clinical routine. She also queries the classification of certain birth years into generations and the common up or devaluation of the different generations against one another. 'This whole evaluation stating that the "economic miracle" generation worked hard and enjoyed it, and that Generation Y, although committed, only want to work for eight hours a day and otherwise prefer to focus on leisure and pleasure – there is a message here saying that the older generation did things correctly and the young ones are a little lazy,' she criticised, encouraging us also to ask what the older generation may actually have done wrongly and what the new generation is doing well.
Furthermore, in more than ten years of management experience she has not experienced any generation-based conflicts in her hospital: 'We employ some very young assistants and I can see that they want to work just as hard and although they may have an eye on the clock, just like everyone else, they are fully committed and immediately prepared to step in when there are staff shortages.'
The only generation gap issue the professor has observed is that parental leave is more to be expected nowadays among males. 'That's very positive; I've always supported it,' she confirms.
Unlike the generation issue, Dr Henne-Bruns believes that there is greater relevance in the commercialisation of medicine resulting not only in problems for daily routine but most significantly a change in values. Among excesses are liberal diagnoses and over-diagnosing due to financial pressure on hospitals, and also millions of euros drained from the healthcare system through indirect payments to shareholders via medical insurance premiums by yield-driven private hospital operators.
In this, Dr Henne-Bruns holds high hopes for the younger generation: 'I hope that future generations will no longer be prepared to tolerate this system in its commercialised shape and that they will drive a shift in thinking.'
PROFILE:
Christian Schmidt, Medical Director and Head of the Board at Rostock University Hospital since 2014, belongs to 'Generation X' (those born between mid 1960s and '70s). He studied medicine at the universities of Muenster, Germany, and Durban, South Africa, and specialised as a surgeon at Kiel University Hospital. He also studied Public Health with a focus on Healthcare Management in Bielefeld, Germany and Boston, USA. Working in hospital management since 2005, before his Rostock role he was Managing Director of the City of Cologne Municipal Hospital Group. With colleagues, Schmidt is currently writing a comprehensive practice handbook on Generation Y, with publication planned for late 2015.
Consultant, visceral and thoracic surgeon Doris Henne-Bruns is part of the German 'economic miracle' generation (i.e. born just after WWII war (1945-'55). Having studied medicine at the University of Hamburg she trained as a surgeon at Reinbek Hospital and Hamburg University Hospital, where she was awarded her professorship in 1988, writing her habi­li­tation on Auxiliary Liver Cell Transplantation. Following her Hamburg professorship, in 1992 she moved to Kiel University Hospital where she became professor for oncology and transplantation at the General Surgery and Thoracic Surgery Clinic. From October 2001, Prof. Henne-Bruns has been Medical Director of the general, visceral and transplant surgery clinic at Ulm University Hospital. Her specialty: cancer surgery.