Fujifilm advances tomosynthesis to next generation
RSNA opens a window for one week where companies can showcase the latest technologies ahead of regulatory approval.

Fujifilm seized this opportunity to introduce the leading edge in tomosynthesis, the Amulet Innovality that it has launched in Europe, and that once given the green light by the FDA will come to America under the name Aspire Cristalle.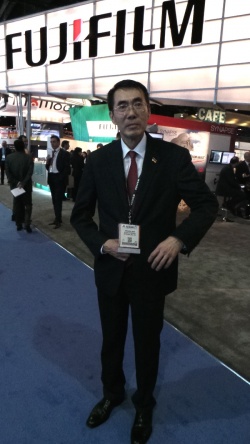 The new Amulet/Aspire platform represents a third-generation platform, according to Jörg Spielmann, Deputy General Manager for Fujifilm Europe, a leading provider of mammography screening systems.
"We are not the first in this market, but today we find ourselves at the right place at the right time with the right product," he said. "We have invested heavily in R&D to identify and then create the right technology, so that we bring a totally new detector, a new projector and new image processing. It is an advanced platform for mammography with a diagnostic value added, where other companies in this market are working with a technology that is five years old," said Spielmann.
The Innovality configuration builds on the Amulet platform by adding a gantry sweep over compressed breasts in either a 15-degree or 40-degree arcs, presenting a routine screening or diagnostic mode. The system is equipped with a new amorphous selenium detector with the Hexagon Close Pattern (HCP) detector geometry for enhanced image sharpness and dose efficiency. Fujifilm Europe received a CE-mark for the FDR Amulet Innovality Digital Breast Tomosynthesis system in July, 2013.
At RSNA Fujifilm also introduced a dedicated breast imaging workstation, the Aspire Bellus designed to improve image quality, streamline workflow and enhance patient outcomes. The workstation offers enhanced image reading capabilities with an integrated reporting system. Features include accelerated display speed of detailed image data, customized reading protocols for streamlined reporting workflow, and intuitive and flexible image layout.
Fujifilm also brought to RSNA in Chicago its line FDR D-EVO flat panel detectors that help customers make the transition from computed radiography (CR) to digital radiography (DR). According to Masashi Arai, Vice President for Medical Systems at Fujifilm Germany, many people believe that this transition from rational film systems has already been made. "We thought the decrease in CR would be big in Germany, for example, yet the total market size for DR actually is only about 15%," he said, noting that reveals a market of 85% for CR. "This is approximately the case across Europe," he added. "What we see is that the growth in DR has not been quite what people expected."
Still, the growth in CR sales has slowed or stopped in healthcare clinics and hospitals as DR begins to be taken up more rapidly. Spielmann noted, for example, that Fujifilm has enjoyed a tremendous year in France where a change in regulations is rapidly converting clinics from mammo CR to mammo DR. Building on the FDR D-EVO detectors is the latest evolution in Fujifilm's mobile imaging products, the FDR Go with a compact size and enhanced mobility to bring the full capabilities of an x-ray room to the patient bedside or anywhere it is needed in a medical canter.
FDR Go utilizes today's latest DR advancements, including Fujifilm's exclusive Irradiated Side Sampling (ISS) and Dynamic Visualization (DV) technologies. ISS detector circuitry design enhances sharpness while increasing dose efficiency compared to conventional designs.
In image management, Fujifilm unveiled the patient-centric Synapse VNA (vendor neutral archive) system that creates a single access point for electronic medical records (EMRs) and other hospital information systems. Because medical imaging is created across multiple vendor systems Synapse VNA provides a platform capable of interfacing with and integrating the data generated by these systems while providing actionable intelligence. The archive allows sharing and consolidation of the storage and provides secure access across all authorized users. Synapse VNA provides a unified viewing experience for the VNA DICOM and non-DICOM data.