Sponsored • Digital mammography
From technology into innovation, from innovation into care
Fujifilm is a pioneer in digital radiography technology since the early 1980s: since then we have continuously been developing innovative technologies, creating products that deliver greater benefits and improved care to both customers and patients.
In the breast screening segment, Fujifilm's strong commitment to continuous technology evolution and a clear commitment in providing innovative solutions in women's health products has lead to the release of the AMULET Innovality Full Field Digital Mammography system. With its state-of-the-art features in dose reduction, image quality and advanced clinical applications, AMULET Innovality represents Fujifilm's capability to convert pure technology insights into drastic care improvements. The combination of high throughput and diagnostic efficiency allow AMULET Innovality to operate in any demanding workflow environment, while maintaining supreme patient care and comfort.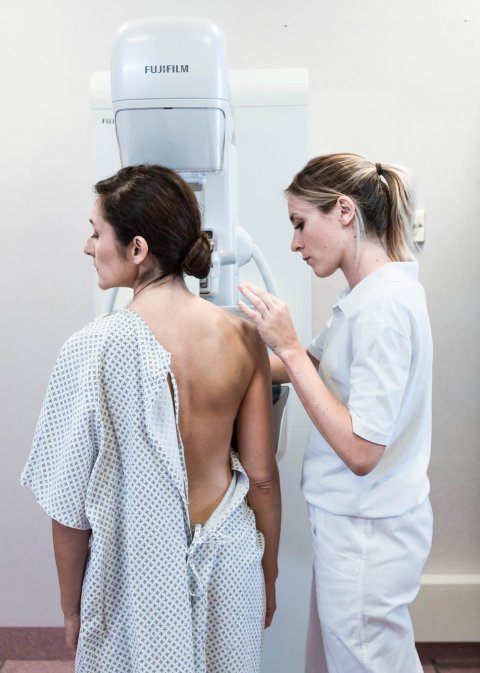 AMULET Innovality represents Fujifilm's continuing "innovation" and commitment to providing top "quality" breast imaging services. AMULET Innovality utilizes Fujifilm's unique a-Se direct conversion flat panel detector with hexagonal pixels to produce clear images with a low X-ray dose. This system makes use of an intelligent AEC (i-AEC) combined with advanced image analysis technologies to automatically optimize the X-ray dosage for each breast type. Fujifilm's digital mammography flagship is a highly advanced mammography system which offers an extremely fast image interval of just 15 seconds. With this system, Fujifilm furthers the provision of high-quality examinations with superior image quality.
The full DICOM integration capabilities with HIS and RIS systems make it possible to operate quick and secure patient identification and procedure selection: thanks to the secondary high resolution display the operator can access all patient data and the images related to prior exams without leaving the exam room.
The movement from one view to the next is executed with extreme simplicity: the "single touch" button allows the operator to position the system in few seconds with high precision. Views sequence can be automatically set on the acquisition workstation, further emphasizing the functionality of auto-positioning features.
Moreover, thanks to advanced proprietary technologies such as ISR and FSC, AMULET Innovality is capable of significant reduction in the dose to the patient per view: "S-View" synthetic 2D processing is also capable of reducing the number of exposures in the event of a screening examination performed with tomosynthesis technique. With throughput that can reach up to one patient every 5 minutes, network and storage performance is critical, more so with the potential for tomosynthesis to replace or to be added to 2D imaging.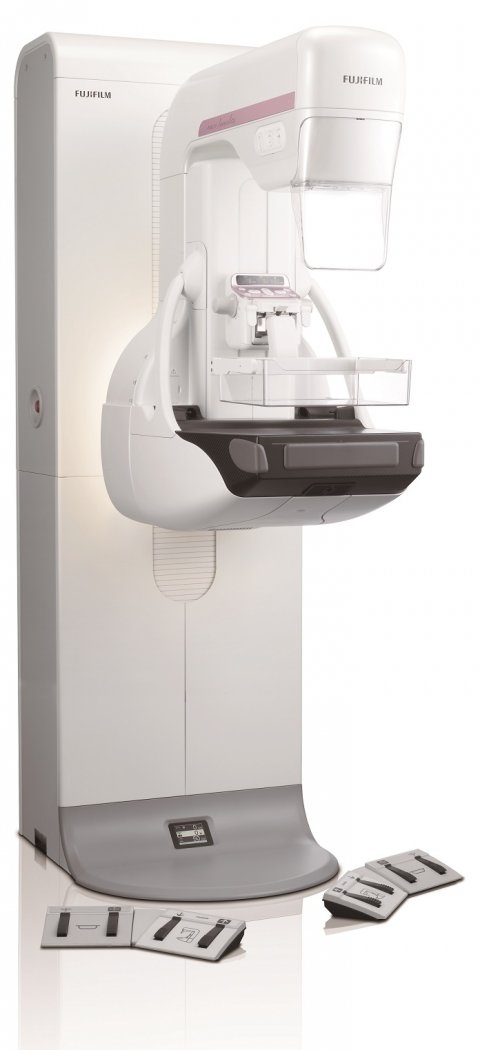 Fujifilm's proprietary acquisition technology makes it possible to customize pixel size output, with a significant level of optimization of image size: resulting in less waiting time, less necessary storage volume, and higher workflow efficiency.
Today, Fujifilm supports more than 10.000 digital mammography installations worldwide, with an increasing role and position in FFDM market. Women health is our priority, Amulet Innovality evolving technology for breast imaging, delivers real and measurable benefits to all women, supporting radiologists with unparalleled degree of precision.
Fujifilm will attend at ECR 2019, schedule an appointment and experience Amulet Innovality superiority in diagnosis.
Learn more about Fujifilm's mammography solutions at: https://mammography.fujifilm.eu/en/
More on the subject:
More on companies: