Accuray
First radiation therapy systems installed in Latvia and Bulgaria
Accuray Incorporated announced today that the first centers in Qatar, Latvia, and Bulgaria are now equipped with its radiation therapy technology, demonstrating continued momentum in adoption of its devices in Europe, India, the Middle East and Africa (EIMEA). The CyberKnife® and TomoTherapy® Systems are now used in more than 40 countries to treat patients across the full spectrum of radiation therapy cases, from routine to complex, including brain, breast, lung, head and neck, pancreas and prostate. With an increasing number of centers installing the systems, more patients will have the opportunity to benefit from the extremely precise radiation treatments they deliver.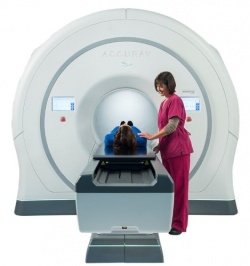 Latvia: first CyberKnife System in the Baltic countries
The stereotactic radiosurgery center (SRC) 'Sigulda,' located in Sigulda, is the first center to offer CyberKnife M6 System treatments in the Baltic region. SRC 'Sigulda' plans to use the system to treat both oncological and non-oncological diseases.
The CyberKnife M6 Series delivers radiosurgery and stereotactic body radiation therapy (SBRT), enabling precise, high-quality dose distributions to be confidently administered to the patient with extreme accuracy over a minimum number of treatments, reducing side effects and preserving patients' quality of life. Using its unique robotic range of motion and continuous image guidance, the system follows the target throughout the treatment process, delivering individualized treatment with sub-millimeter precision.
Bulgaria: first TomoTherapy System in the country
The New Radiotherapy Clinic in SBALO- Specialized Hospital for Active Treatment in Oncology, located in Sofia, will be the first hospital in Bulgaria to offer patients treatment with the TomoTherapy® System. SBALO selected this system because it is the only radiation system specifically designed for image-guided intensity-modulated radiation therapy.
Based on a CT scanner platform, the TomoTherapy® System provides continuous delivery of radiation from 360 degrees around the patient, or delivery from clinician-specified beam angles. These unique features, combined with daily 3D image guidance, enable physicians to deliver highly accurate, individualized dose distributions which precisely conform to the shape of the patient's tumor while minimizing dose to normal, healthy tissue, resulting in fewer side effects for patients.
"The recent installations of Accuray technologies in Qatar, Latvia and Bulgaria indicate clinicians believe in the long-term benefits our devices can provide to their patients," says Lionel Hadjadjeba, corporate senior vice president, president worldwide commercial operations at Accuray. "We're committed to working with clinical teams around the world to ensure that with the CyberKnife® and TomoTherapy Systems, they can significantly and positively impact the way cancer is managed."

Source: Accuray Incorporated