Fighting HIV with antibodies
30 years after HIV was discovered to be the cause of the acquired immune deficiency syndrome AIDS, and despite intensive research, no vaccine or cure has yet been found. An international team of scientists, in collaboration with the German Center for Infection Research (DZIF) and the University Hospital of Cologne, has now tested a new generation of antibodies in humans for the first time. They have demonstrated that these broadly neutralising antibodies significantly reduce the number of human immunodeficiency viruses (HIV) in infected patients' blood.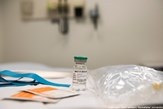 Today, HIV infections can be well controlled with a combination of different antiviral drugs. However, the drugs can cause some severe side effects, are expensive and have to be taken over a lifetime. Additionally, resistance can develop, which challenges individual treatment. "This is why we still need new treatment options," explains Cologne infectious diseases specialist Prof Gerd Fätkenheuer, who is researching new ways of treating and preventing AIDS at the German Center for Infection Research.
In the trial, published today in Nature, doctors from the University Hospital of Cologne together with researchers of Michel Nussenzweig's Laboratory from Rockefeller University in New York (USA) investigated a new treatment approach. For the first time, the scientists conducted human trials with an antibody (3BNC117), which was developed in Nussenzweig laboratory. The special thing about this antibody is its ability to neutralise a large number of different human immunodeficiency viruses effectively. In the trial, which was co-funded by the DZIF, the antibody showed good tolerability and favourable pharmacological properties. Furthermore, patients undergoing treatment at the highest dose level (30 mg per kg of bodyweight) showed a significant drop in viral load. "With this, the antibody has a potency comparable to the drugs we are currently using for treatment," Fätkenheuer explains. The treatment effects could be observed for up to 28 days after administration of the antibodies.
The trial consequently opens up a new field in HIV treatment. Co-First Author Prof Florian Klein, who will soon be changing from the Rockefeller University to the University Hospital of Cologne, sees particular potential in the mechanism of action of broadly neutralising antibodies: "Neutralising antibodies have a different mechanism of action and different pharmacological properties compared to the HIV drugs that have been used up to now." According to the scientists, "Neutralising antibodies could play an important role in HIV treatment and HIV prevention." Plans for clinical trials investigating the efficacy of broadly neutralising antibodies with regard to curing HIV are currently underway.

Current publication
Caskey, M.*; Klein, F.*(*Co-First Authors); Lorenzi, J.C.C.; Seaman, M.S.; West, A.P., Jr, Buckley, N.; Kremer, G.; Nogueira, L.; Braunschweig, M.; Scheid, J.F.; Horwitz, J. A.; Shimeliovich, I.; Avraham-Shulman, S.B.; Witmer-Pack, M.; Platten, M., Lehmann, C.; Burke, L.A.; Hawthorne, T.; Gorelick, R.J.; Walker, B.D.; Keler, T.; Gulick, R.M., Fätkenheuer, G.; Schlesinger, S.J.; Nussenzweig, M.C.:
Viraemia suppressed in HIV-1-infected humans by broadly neutralizing antibody 3BNC117
Nature, online first released on April 08 (2015)
DOI: 10.1038/nature14411

Source: German Center for Infection Research