Sponsored • Breast imaging congress
EUSOBI 2021: A turning point in women's health
The breast imaging field plays a critical role in women's health and wellbeing around the globe. Bringing together experts, leaders and innovators from across the breast imaging landscape, the 2021 European Society of Breast Imaging (EUSOBI) Congress comes at a crucial time and represents a pivotal opportunity for the industry as a whole.
Taking place online from 4-28 October, 2021, the virtual nature of the event points to the ongoing impact of the Covid-19 pandemic, which has greatly affected the breast imaging field.
The pandemic upended screening across Europe, leading to delayed appointments for countless women as health care facilities were forced to make sacrifices and reallocate resources. As facilities continue to recover and address these backlogs, it is essential that we not only return to the status quo but utilise this once in a lifetime event as a catalyst to revolutionize breast imaging and care. Beyond the pandemic, threats to breast screening still exist in the absence of innovation, such as workflow inefficiencies and workforce development issues.
Recommended article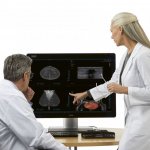 Sponsored • Breast cancer backlog
The Covid-19 pandemic continues to impact people's health across the world. This goes beyond the disease itself, as healthcare systems adapt how they provide services. Routine screening has been severely affected with screening programmes reduced or paused.
The breast imaging field has reached a potential turning point and has the opportunity to reimagine the way our industry operates and provide patients with better care than ever before. Hologic is committed to helping health care professionals diagnose and treat patients with the utmost certainty and effectiveness, providing solutions that encompass the full clinical continuum of breast health. As a global champion for women's health, the company is excited to participate in EUSOBI 2021 as we all work together to ultimately improve the lives of patients and their loved ones.
As part of this year's annual congress, Hologic will host the following medical education webinars to help spur discussions around a number of important topics:
Why and how: breast biopsy with focus on compassionate patient care
Dr. Shirley Go, Alkmaar/NL | Tuesday, 5 October - 18h00 CET
What does it mean to provide the highest possible level of care? Learn about the importance of integrating compassionate patient care into evidence-based medicine from a breast radiologist.
How can we ensure consistency using ShearWave Elastography for the Ultasound Breast examination: clinical considerations
Pr. Piero Maceroni, Latina/Italy | Tuesday, 19 October - 18h00 CET
Learn about the integral connections between new technology, clinical proof and evidence-based clinical practice when it comes to consistent usage of ShearWave Elastography (SWE).
Can 3DQuorum replace traditional high-resolution Tomosynthesis: first clinical experience
Dr. Bettina Wolfgarten, Bonn/DE | Tuesday, 26 October - 18h00 CET
Artificial intelligence can potentially streamline the use of Tomosynthesis, but can diagnostic confidence be maintained? Hear from a breast radiologist about her own experiences using today's commercial solutions.
In order to participate in these industry workshops, attendees must be registered for EUSOBI 2021 online. To learn more about the congress and register for these events, please visit https://www.eusobi.org/congress/.
More on the subject:More on companies: