Europe's first Positron Emission Mammography
Experts confirm reliable diagnoses and treatment monitoring
Early this year the radiology and nuclear medicine practice of Doctors Andreas Blynow, Frank Muller, Jorg Kowalski in Ludwigshafen, Germany, began to offer breast examinations using Europe's first Positron Emission Mammography (PEM) scanner. With 15 years experience with Positron Emission Tomography (PET), Dr Muller introduced the new PEM scanner to the partners' practice to detect and assess early stage breast cancer.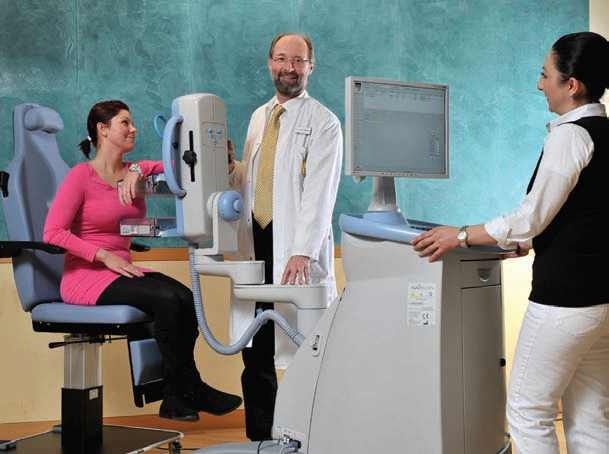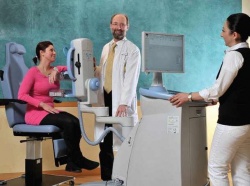 The first examination results are more than convincing, they conclude: 'The new procedure saves the affected women valuable time and also offers more reliability in the diagnosis of breast cancer compared to all other examination procedures.'
One example is the monitoring of the effectiveness of chemo and radiotherapy. According to study results from the USA, whereas with other diagnostic procedures it takes about three months before treatment can be assessed, using PEM treatment results can be assessed in just two weeks.
Dr Muller, who is Chair of the national German Association for the Promotion of Positron Emission Tomography (PET e.V.) is convinced of the superiority of PET technology in breast cancer diagnosis: 'PEM is of particular advantage as it confirms with 90% probability whether or not suspicious lesions that show up on the examination screen are in fact breast tumours. With other procedures these suspicions often turned out to be false alarms. Women are then worried because of these false positive results and have to undergo a barrage of examinations.'
Tumour or cyst
With the new system (offered in Germany by Medicor) the Ludwigshafen radiology practice can provide affected patients with a reliable diagnosis within a day.
Once a radiological mammography has detected a suspected tumour, PEM then confirms whether the lesion is actually a tumour or a harmless cyst. If the PEM breast examination confirms that it is a tumour, the patient can immediately undergo a PEM-guided biopsy. In addition, the practice can then offer a whole-body PET scan to check whether any suspicious tumour cells have already spread into the body via the lymph nodes in the armpits – if this examination is required it can be done without additional exposure to radiation because the FDG tracer not only concentrates in the tumour cells in the breast tissue but also in tumour cells all over the body.
This practice has been at the forefront of all things PET for more than a decade. The convenience of having to undergo just one examination to confirm the final diagnosis is complemented by the high level of comfort during the examination. 'The patient sits in front of the scanner, she doesn't need to be positioned in an examination tube, and the pressure on the breast during the examination is a lot lower than during a mammography.'
In terms of radiation dose, PEM also fares very well compared with other examination procedures. Based on body weight, the dose is only around half or a quarter of what the patient is exposed to during a CT scan.
For Dr Muller this new high-end machine is the obvious choice for all his female patients. 'PEM is the method of choice for the reliable diagnosis of breast cancer,' he confirms. The examination is particularly suitable for women with suspected breast cancer, breast cancer patients during treatment and aftercare, for those patients with breast implants and for younger women with dense breast tissue.
Presently, patients who only have statutory medical insurance have to pay for this examination themselves. However, Dr Muller and his colleagues are campaigning for PEM to be covered by all statutory medical insurers.