Finding early stage cancers that could have been missed
In Europe, 350,000 women are diagnosed with breast cancer annually. About 90% of them can be cured if the cancer is detected at a very early stage. To improve early detection almost all European countries have gradually initiated regional screening programmes, even though the benefits are discussed controversially from time to time.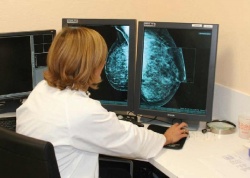 In 2009, mammography technology took a big step forward, when breast tomosynthesis entered Europe. European Hospital reporter Brigitte Dinkloh asked breast radiologist Dr Anne Pascale Schillings, from the CHU Saint-Pierre Hospital in Brussels, Belgium, about her experience with tomosynthesis in her clinical practice.
In September 2010, a Hologic Selenia Dimensions breast tomosynthesis system was installed at the Hospital's Breast Clinic, where around 9,000 mammographies are performed annually. Since the introduction of tomosynthesis, three quarters of the women have been examined with a conventional digital mammogram and a tomosynthesis exam - all in one compression, in just seconds. 'For a year and a half, we considered every over 45-year-old woman, and those at normal risk, for tomosynthesis diagnosis as well as individual screening. For younger women and patients with high-risk gene mutations, such as BCRA1 or BCRA2, we don't use tomosynthesis because of radiation protection,' Dr Schillings explains.

Far better specificity and improved sensitivity
The most important advantage of tomosynthesis for Dr Schillings is the frequent reduction in false positive results. In a 2-D image, overlapping tissue can hide objects of interest, potentially resulting in missed cancers. Conversely, normal structures in the breast that overlap may give the appearance of lesions, leading to unnecessary recalls. A breast tomosynthesis system produces three-dimensional images that are intended to reveal the inner architecture of the breast, free from the distortion typically caused by tissue shadowing or density. While keeping the breast stationary, the X-ray tube is moved in an arcuate motion and a series of low-dose images, known as projections, are taken at different angular locations of the tube.
Following the scan, the projections undergo a reconstruction process, which consists of computing high- resolution images with planes parallel to the breast support plate. The number of reconstructed slices will depend on the thickness of the compressed breast and the desired separation between slices – typically around 1 mm. 'With tomosynthesis it's quite easy to show if there is a problem in an image or not. New studies prove that the recall rate can be reduced up to 70%', Dr Schillings confirms.
The second advantage of tomosynthesis is to find more cancers. In the last year and a half Dr Schillings found 10-12 more small tumours thanks to tomosynthesis. 'We found very small cancers at 3-4 mm that we wouldn't have found with common 2-D mammography. However, to detect cancers needs some experience, a little learning curve in reading the mammograms,' she says.
The only problem for the radiologists is the radiation dose. Even if it remains under dangerous limits the radiation dose from tomosynthesis is one or two times higher than from normal mammography. Up to now, 2-D and tomosynthesis images were always made in combination, so tomosynthesis meant a higher radiation dose for patients. Hologic has developed an algorithm to make a synthesized 2-D image from the breast tomosynthesis slices. Hologic says the new algorithm will save on patient time under compression and give the patient lower dose by eliminating the need for a conventional 2-D image.
Less patient fears and higher screening rates
For patients there is another important achievement. In normal mammography the breast is compressed very hard to avoid superimposition. During tomosynthesis the breast is about 50% less compressed. 'Hard compression is one major reason not to come to mammography sessions because women fear the pain,' she points out. 'With tomosynthesis the breast is compressed only a little. So they are happy, they don't feel pain and they will come back for the next screening,'
Are tomosynthesis mammograms complex to read?
Whereas initially Dr Schillings perceived tomosynthesis as a 'gadget', she is now very satisfied with results. Although her experience with it has been brief, she feels very secure in reading the images. It takes her only 20-30 seconds if there are no abnormalities. In fact, she is gaining time: If she finds no lesion she doesn't have to ask for other views. Dr Schillings is now convinced that tomosynthesis really means a revolution for breast imaging and that it will change mammographic screening with better sensitivity and specificity and more comfort for patients.
More on the subject:
More on companies: