EuroPCR highlights rapid advances in MIS on a beating heart
The landmark achievements in interventional cardiology that are rapidly advancing minimally invasive surgeries (MIS) on a beating heart were demonstrated during a Paris course on revascularisation (EuroPCR), the annual meeting of the European Association of Percutaneous Cardiovascular Interventions (EAPCI).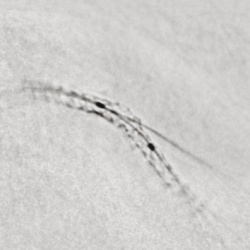 Over the past year, key developments include the emergence of clinical evidence demonstrating that second-generation drug-eluting stents (DES) do, in fact, improve outcomes for patients; that a new measure of the functional severity of coronary blockage, called fractional flow reserve (FFR), has been adopted into practice guidelines, and that transcatheter aortic valve implantation (TAVI) is safe and effective, fuelling wider adoption that led to a phenomenal 7,000 procedures in Europe over the past 12 months.
The fast take up of the Xience V DES from Abbott opened a new chapter in interventional cardiology with convincing evidence that improving stents can also improve patient outcomes.
Quickly winning a 50% share in major markets, and displacing former market leaders Boston Science and Cordis/Johnson & Johnson, encourages the host of competitors, which are now bringing even newer and further improved stent platforms toward the market.
'The past year has been very important for innovations in revascularisation,' acknowledged Patrick Serruys, editor of EuroIntervention, the official journal of EAPCI.
'There are not less than five different directions being explored by companies pursuing the effects of durable coatings on stents, companies exploring biodegradable coatings, companies not using any coating, totally biodegradable stent structures, and emerging techniques for drug eluting balloons,' he said at the opening press conference.
'It is very appealing with greater choices and innovative technologies, but very challenging as well,' said Serruys, adding that cost-effectiveness may ultimately prove to be the key criteria for the newer generation of stent platforms.
Rebounding at EuroPCR, Cordis unveiled its new Nevo RES stent with a unique structure of reservoirs for sustained release of the sirolimus drug, and announced a new clinical trial for a head-to-head comparison with Xience V.
Abbott responded with clinical trial results for a third-generation bioresorbable vascular scaffold that suggests the new device treats a clogged vessel as effectively as a metallic stent, but offers the additional benefit of not leaving a permanent implant behind after the vessel is healed.
With the overwhelming strength of commercial interests in promoting stents, cardiologists have welcomed a new technique for independently determining whether a patient needs a stent in the first place.
During coronary arteriography a small pressure wire is threaded into a coronary artery to measure the range of pressure across a blockage so that the interventionalist can then determine which lesions will benefit from stenting, and which should be treated with medical therapy.
The FFR Angiography for Multivessel Evaluation (FAME) study demonstrated that the technique is cost-beneficial to hospitals and payers by reducing material costs by €550 per patient, lowering average length of hospitalisation by 0.3 days and reducing the total patient treatment cost at 12-months by more than €1,630.
Currently, there are two manufacturers of US Food and Drug Administration (FDA) approved FFR systems: St Jude Medical and Volcano Corporation.
Capturing change on a cardiac imaging platform
Cécilia Felix, manager of interventional cardiology products at GE Healthcare, told European Hospital: 'FFR is now used more than angiograms during PCI in Europe, so we have integrated this data into the monitors used in operating theatres to guide the interventions.'
Both the Volcano and St. Jude systems are compatible with the upgraded GE Mac-Lab XT, which was introduced at EuroPCR.
'Integration to keep pace with new clinical practice does not just mean putting boxes together,' she said, 'but integrating these tools into the clinical workflow as well, which includes an exchange of patient data and managing medical records.'
The complex dashboard of images and data monitored in real-time by interventionalists operating on a beating heart provides a view of future technologies as well as those already adopted by clinicians. For example, Intravascular Ultrasound (IVUS) is now widely used for an anatomical assessment of lesions or stent placements, and GE has integrated this technology onto the platform.
At EuroPCR, LightLab introduced the first intravascular optical coherence tomography (OCT) imaging system to receive FDA approval, and Cécilia Felix said GE is now looking to integrate this technology into the dashboard. 'If it plays a clinical role, and is accepted by cardiologists, we will take it up and build it into the platform.'
She demonstrated a more advanced clinical feature for 2-D fluoroscopy, which remains the primary reference for cardiac interventions; with this, a 3-D view can be superimposed to support the rapidly growing trend to repair or replace failing heart valves using minimally invasive techniques.
Prior to the procedure, cardiac interventionalists use a 3-D computed tomography (3D-CT) image to assess anatomy and function and plan the intervention, she said. Yet, once the surgeon enters the operating arena these images are left behind and the procedure is performed using 2-D fluoroscopy alone.
At EuroPCR, GE introduced the Innova Vision Technology that overlays the 3D-CT image on the 2-D fluoroscopy, matching the two images with anatomical registration.
Innova Vision includes image stabilisation features, such as ECG-gated display and motion-tracking algorithms, to assure the overlaid images remain precisely matched even with cardiac and respiratory motion.