euHeart
Royal Philips Electronics is to lead `euHeart´, the new European Union (EU) funded research project that aims to improve CVD diagnosis, therapy planning and treatment.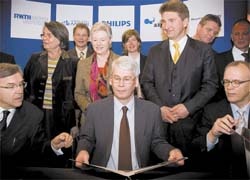 By targeting the diagnosis and treatment phases of the care cycles for heart conditions such as heart failure, coronary artery disease, heart rhythm disorders and congenital heart defects, the euHeart project complements the recently announced HeartCycle project (also led by Philips) which focuses on the long term management of chronic heart disease patients.
The newly created 'euHeart' consortium aims to improve the diagnosis, therapy planning and treatment of CVD by developing computer models that simulate the normal and disease-related behaviour of each individual patient's heart and aorta.
Supplied with information about how specific CVDs affect heart function at molecular, cellular, tissue and organ level, these computer models have the potential to allow doctors to investigate the effects of different therapy choices on a virtual model of the patient's heart and aorta, before going ahead with the option that offers the best clinical outcome. The availability of clinical decision support tools that utilise these personalised heart models could therefore improve the outcome for patients with life-threatening conditions such as heart failure, coronary artery disease, heart rhythm disorders and congenital heart defects.
However, as Henk van Houten, senior vice president of Philips Research and head of the Healthcare Research programme, said: 'The development of computer models that integrate structural and functional information of the heart and then personalise it to individual patients is a mammoth task that will require the multi-disciplinary effort of researchers with strong know-how in biophysical modelling and image processing, clinical experts, and engineers in the device and imaging industries.' But, he adds: 'In the euHeart project we are confident that we have brought together the necessary expertise,' which could, he says, make a real contribution to improving cardiac treatments.

From molecules to organs
A characteristic of biological complexity is the intrinsic interaction of physiological behaviours across a range of time scales and anatomical levels. The computer models developed in the euHeart project will therefore relate what happens at cellular and microvascular levels to what happens at tissue level, and what happens at tissue level to what happens at organ level. This will require the integration and interconnection of existing and future models from many different areas of biological research, including molecular biology, biochemistry, biophysics, anatomy and physiology – a task that will be facilitated by the use of standardised mark-up languages such as CellML and FieldML to describe them.

Patient-specific
Most importantly, the resultant comprehensive model will be adaptable to reflect the condition of a specific patient's heart, using anatomical and functional information obtained via diagnostic techniques such as medical imaging (CT, MRI, ultrasound, etc.), blood flow and blood pressure measurements or electrocardiograms. At the intra-cellular level, the model could even take into account specific gene defects in individual patients.
By having an accurate personalised model of the patient's heart to work with, doctors may be able to gain a deeper understanding of the patient's disease. This could allow them to make more accurate diagnoses, predict the likely effectiveness of different treatment therapies and improve therapy planning. In addition, the models could lead to improvements in the development and programming of implantable devices such as pacemakers, left ventricular assist devices, and endografts.

Therapy planning
Because of the need to build the model over time, particularly in relation to incorporating molecular-level to organ-level disease pathologies for diagnostic purposes, the first applications are likely to be in therapy planning for pre-diagnosed conditions, e.g. heart arrhythmias, sometimes treated by radio-frequency (RF) ablation. During this procedure, the cardiologist relies on experience to decide which areas of tissue to destroy, a task complicated by the fact that each heart's electrical activity is subtly different. Aided by a computerised model that reflects the patient's unique heart structure and function, the cardiologist may be able to test the results of destroying different tissue areas before actually operating on the patient.
In addition to RF ablation therapy for arrhythmias, other clinical focuses for the euHeart project include heart failure (cardiac resynchronisation therapy and congenital cardiac surgery and left ventricular assist devices), coronary artery disease, and diseases/defects in the heart valves and aorta.

Work packages
The euHeart project is broken up into a number of work-packages that include database management/validation for individual (sub-) models and their coupling together into larger structural/functional models; the development of appropriate mark-up languages and communication infrastructures for model description/exchange; the personalisation of anatomical models from image data; and the biophysical (structural and functional) personalisation of the models. The clinical relevance of the project will be ensured by additional application work-packages that will focus on specific model development for each of the clinical focus areas listed above – tailoring the model to specific diseases.

Funding
The euHeart consortium comprises public and private partners from 16 research, academic, industrial and medical organisations, from six European countries. Planned to run for four years the budget is around euros 19 million; 14 million of this provided by the EU as part of the EU 7th Framework Programme. The project forms part of the Virtual Physiological Human (VPH) initiative – a collaboration aiming to produce a computer model of the entire human body so that it can be investigated as a single complex system.
More on the subject:
More on companies: