Excellence Award
ESCMID honours Médecins Sans Frontières
The European Society of Clinical Microbiology and Infectious Disease (ESCMID) today issued a special excellence award for outstanding achievement to Médecins Sans Frontières (MSF). The award was bestowed in Copenhagen at ESCMID's annual congress, on behalf of all its members, in light of the charity's huge contribution to global health over the last 40-years, and in special recognition of its enormous efforts in fighting Ebola across Africa.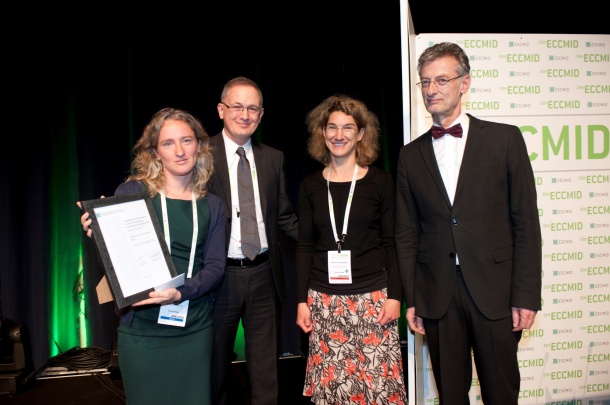 The ESCMID Executive Committee took the unanimous decision to issue this one off award to Médecins Sans Frontières' 30,000 employees - its physicians, nurses and other professional staff, who regularly put their own lives at risk all across the world.
Médecins Sans Frontières has broken new ground in international humanitarian work by taking a selfless and uncompromising approach. They often act without prior Governmental support, simply delivering aid where it is most urgently needed. And, since its inception in 1971, MSF has treated over a hundred million patients – with 8.3 million outpatient consultations carried out in 2012 alone.
The charity's work was most recently exemplified during the recent Ebola epidemics in West Africa, where it currently employs nearly 3000 staff. Since the outbreak began, it has shipped more than 1,400 tonnes of supplies and admitted more than 8,000 patients to Ebola management centres – almost 5,000 were confirmed with Ebola, and remarkably, about 2,300 recovered.
In light of such stunning achievements in the fight against infectious disease, ESCMID has pledged to provide its support, assistance and on-going commitment to help the charity in any of its projects moving forwards. MSF doctor, Hilde de Clerck, received the award on behalf of the charity at the 25th European Congress of Clinical Microbiology and Infectious Diseases.
Commenting on the award, Murat Akova, President of ESCMID added: "It is our members that must be humble when faced with such a longevity of achievement in providing vital healthcare worldwide. The organisation represents an open helping hand, extended across borders, irrespective of conflicts and political circumstance. It is thanks to this intransigent stance and its self-sacrificing commitment that we would like to take this opportunity – in the name of all our members and executive committee – to express our deepest esteem and respect for their relentless efforts. In the future, we will lend any support we can to Médecins Sans Frontières, and together, we can inspire many young colleagues to join their noble cause."

Source: ESCMID