Article • No standardisation
Lab medicine in Norway, Serbia and France
Laboratory medicine delivery, regulation and accreditation vary between countries, e.g. Norway, Serbia and France recently aired at FiLM 2017. Leading figures explained the shape, scope and funding of healthcare and lab services and roles played by different professionals and challenges they face.
Report: Mark Nicholls
Norway
Professor Sverre Sandberg spoke about this sparsely populated country of five million people, with healthcare systems arranged to meet those needs.
Laboratory medicine is funded and shaped with services to meet the demands of 80 hospitals, four medical universities, 4,000-5,000 general practitioners (GPs), four health regions, care homes and nursing homes, military installations and oil platforms.
Sandberg, who directs NOKLUS (see profile) and is a University of Bergen professor, said the government funds the healthcare systems and laboratory medicine but Norwegians increasingly have health insurance.
In terms of lab services, most hospitals have laboratories, and also take samples from GPs and nursing homes. Public laboratories receive a basic reimbursement from hospitals and some have an internal reimbursement system paid by clinical departments.
The government reimburses services for GPs; negotiations continue for reimbursement for tests in hospitals. The government reimburses one major private lab, depending on whether it's a simple or complicated analysis.
GP surgeries perform a basic repertoire of tests (Hb glucose, urine strips, HCG), with specific reimbursement negotiated annually; lab med participates in the negotiations.
Sandberg said all data is closely monitored, with evidence collected on numbers of samples, though variation exists between health regions. Key to this, and monitoring costs, is an open dialogue with clinicians, he said. 'We want to maintain that close contact, regular discussions over the number and type of tests, so we can provide evidence about laboratory testing.'
With demands to cut the budget, he said services must become more effective and, 'The best way to cut down requesting by clinicians is by talking to them regularly'.
Norway's laboratory medicine involves microbiology, immunology, genetics, pathology and medical biochemistry with 300-400 lab specialists, 4000-5000 medical technologists, IT staff and a small number of biochemists and scientists. 'Twenty years ago, medical doctors led hospital laboratories; now all but one has a medical technologist as director.'
While they have logistics and technical skills, the biggest challenge is professional knowledge to lead the sector effectively in the future, he added.
POC testing is a key element of Norway's laboratory medicine, with NOKLUS established for delivery and monitoring by advising what should be analysed and where, ensuring correct results, supporting, advising on problems, equipment, education and e-learning courses.
NOKLUS has 2,990 participants in GP offices and nursing homes, is expanding to homecare, and covers 21 military installations and 50 oil platforms, visiting 50-60% of them annually. With 22 Norwegian locations and main centre in Bergen, it is important to Norway's lab services, given the country's demographics. Healthcare takes 9.6% of the gross national budget.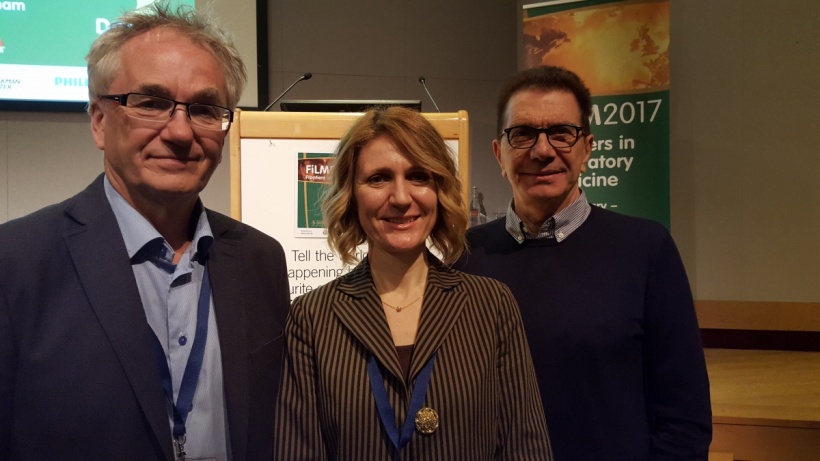 Serbia
Serbia has a seven million population, 161 community health centres, 41 general hospitals and 35 specialist hospitals, 37,500 hospital beds, 10% of GDP spent on healthcare – funded via citizens' contributions to mandatory health insurance, alongside state financing for those not in the mandatory system, such as the unemployed, refugees, and welfare recipients.
Dr Snezana Jovicic, Head of the Clinical Laboratory for Cardiac, Vascular and Endovascular Surgery, Cardiology clinics and Pacemakers, in the Serbian Centre for Medical Biochemistry, explained that laboratory medicine covers biochemistry, laboratory haematology, microbiology, immunology, immunohaematology, toxicology, cytogenetics and molecular genetics, tissue typing and histopathology.
Clear guidelines and strong education cover the sector, e.g. through the Medical Biochemistry Unit at the Pharmacy Faculty, University of Belgrade.
Serbia has many medical biochemistry labs, including 261 state laboratories and 193 private laboratories, with 295 medical biochemists, 227 medical biochemistry specialists and 276 clinical biochemistry specialists. 'Medical biochemistry laboratories are organised according to the healthcare level – primary, secondary and tertiary – and according to the guidelines for Providing Healthcare,' Jovicic said.
The Serbian Society also aims to unite its specialists to promote and develop all branches of medical biochemistry in healthcare provision. 'It aims to achieve uniform work standards in clinical biochemistry laboratories and provide continuous education for all medical biochemists at all academic levels. Professional interests are ensured through the Chamber of Biochemists of Serbia,' Jovicic said.
Laboratories and services activities are clearly defined, with all stages of work subject to standardisation by the implementation of a Total Quality Management System (TQM) – plus external quality control – and an accreditation body.
As with other countries, pressure to save money continues, with service users cutting budgets yet wanting the same levels of service and numbers of tests, she said.
France
European and International collaboration is the way forward

Dr Bernard Gouget
Over recent years, medical biology has been reformed, aiming to enhance 'medicalisation' of the profession; harmonising public/private practice, and to ensure medical biology tests quality by implementing mandatory accreditation.
The country has 10,442 medical biologists (2,975 medical doctors and 7,467 pharmacists) medical biology represents 2.5% of medical specialists and covers all sub-specialities in lab medicine.
Total spend on medical biology in France, supported by the national healthcare system is €4.3bn euro in the private sector and 2.4bn public.
Dr Bernard Gouget, counsellor for public health at the National Federation of France, believes mandatory accreditation has directly impacted on the consolidation of private labs with the modernisation of healthcare, setting up the territorial hospital groups for public hospitals, revitalising cooperation in medical biology. France has 953 medical labs operating in a pressured healthcare system heading for reform, but with patient satisfaction high. Different funding arrangements based on the type of provider, with a mix of public and private health with regional differences.
'Challenges include maintaining funding through the national welfare system, despite spending growth restraints,' he said. 'There are social and regional inequalities in health, adapting to epidemiological changes with chronic disease levels and an ageing population as well as technological evolution.'
Another issue: while digital development supports healthcare, hospitals have too many different systems making regional communication difficult. French biology reform gave a central place for biological diagnosis improving diagnosis pathways and clinical outcomes by a better service closer to clinicians and more efficient, with new tools, technologies and evidence based medicine.
Gouget believes practice accreditation will succeed, achieving its explicit and specific purposes to benefit all groups – including patients. 'I want to be very positive about the sustainability of lab medicine. As specialists we have many strengths and a central role in prevention, diagnosis and therapy monitoring, quality and efficiency.
Due to globalisation and rapid development in scientific communication, European and International collaboration is the way forward to harmonise scientific training, standardisation of tests and to improve quality and impact of research findings.'
Whilst the outlined practices operate within different healthcare systems – they face similar challenges: to be more efficient and cost-effective as they embrace technological advances to meet patient expectations.
Profiles:
Sverre Sandberg directs the Norwegian quality improvement of primary care laboratories (NOKLUS) and the Norwegian Porphyria Centre (NAPOS) and is a University of Bergen professor. He has chaired the Committee on Evidence-Based Laboratory Medicine; published 240+ peer reviewed papers and is President of the European Federation of Clinical Chemistry and Laboratory Medicine.
Snezana Jovicic heads the Clinical Laboratory for Cardiac, Vascular and Endovascular Surgery, Cardiology and Pacemakers, at the Centre for Medical Biochemistry, Clinical Centre of Serbia. She teaches at the Medical Biochemistry Department, in the Pharmacy Faculty, University of Belgrade and is an Executive Board Member for Serbia's Society of Medical Biochemists.
As a counsellor for public health at the Fédération Hospitalière de France (FHF), Bernard Gouget monitors national public hospital programmes involving, for example, health and safety. He was assistant professor at University Hospital, Paris-Descartes, a member of the steering committee overseeing medical laboratories reform and is a medical biology expert for the EU.